Placencia is a gorgeous emerald peninsula in southern Belize with 16 miles of sandy beaches. The Caribbean sea is to the east and the charming Placencia lagoon lies to west looking to the mountains on the mainland. Placencia is essentially divided into two parts: south of the airstrip and north of the airstrip. The entire peninsula can be easily covered on a beach cruiser bike. The busy part of Placencia lies in the south where the visitor will find the greater concentration of coffee shops, bistros, internet cafes, the harbor, guest houses, taxi and bus station, banks and local restaurants.
The northern portion of Placencia includes the Garifuna village of Seine Bight, is less densely populated and has many of the more expensive resorts. Because of its distance from the reef , it also has "real' though not very high surf. The water is clean and clear; the trade winds gentle and cooling. There are few sights more calming to the spirit than a Belizean sunset on a deserted Placencia Peninsula beach. A visitor on her first visit to Belize had this to say about Placencia:
"All the fears of going to Belize were unfounded. I had friends tell me I was crazy for going to an obscure Central American country that they had never heard of! They envisioned rebel infested jungles at every turn. And the thought of me being susceptible to snakes, crocodiles, scorpions and a various array of insects sent them into a incoherent and somewhat amusing frenzy, I am so glad I did not heed their unwarranted objections.
"What I found in Placencia was simply, Paradise. A warm and caring people and an unsurpassed tropical haven. I have traveled to several tropical destinations and I have never found such beauty.
I chose Placencia because of its proximity to the Reefs and The Rainforest and my limited amount of time, only 6 days. I was not disappointed. I have never been to a place as lovely as Placencia. The people of the village are a caring, gracious and insightful people. They care for each other and their beautiful surroundings."
The Spaniards that traveled the southern coast of Belize gave Placencia its name. It was once named Punta Placencia (Spanish) or Point Pleasant (English).
Placencia was primarily a fishing village but it has now become a major tourism and resort area offering many attractions and entertainment ranging from kayaking, snorkeling, diving, saltwater fly fishing, whale shark watching during the full moons between April and July of each year, light tackle saltwater fishing, and an annual Lobster Fest. Some images here courtesy of the Inn At Roberts Grove.
The Beaches At Placencia
The beaches along the Placencia Peninsula are dotted with small resorts that can arrange dive and snorkel trips to the reef, which is about 17 miles away. They can also arrange day trips to many small, idyllic cayes, such as Laughing Bird Caye, a mini-atoll that offers protected snorkeling and swimming, a white sand beach and many cooling palm trees for beach girls to cool off (it even has hammocks!).
Laughing Bird Caye is also a favorite camping site for reef kayakers who base their expeditions in Placencia. A hotel can also arrange deep sea or reef fishing trips, or day sailing on a 36-foot catamaran.
There are many places to stay in Placencia – from low-cost lodging to all inclusive Belize Resorts such as Chabil Mar Villas and others. Snorkelling is easily accessible from virtually any point from the beach. The waters are clear and shallow meaning it is often a few steps from your hotel room to find an excellent snorkel spot.
Placencia Now Major Tourism Attraction
Placencia is now one of the country's main tourist destinations, especially for those stopping over on their Caribbean cruise in the southern part of the country, and it is also well visited by Belizeans from across the country on local holidays. The peninsula has many restaurants, some of which are set up in the patios of private homes along the path between the beach and the lagoon. You can get a delicious plate heaped with stewed chicken and rice and beans for about US$5.
There are several small gift shops, a post office and some night life. Nearby Mango Creek-Independence Village has a disco and weekend activity for the adventurous wishing to get out of Placencia, as well as a big football field which is home to one of Belize's top football clubs. A trip to nearby Seine Bight, a traditional Garifuna village a few miles north of the peninsula, provides a chance to sample Garifuna cooking and music (including traditional drumming and modern Punta Rock). The Maya ruins of Nim Li Punit and Lubantuum, as well as the Cockscomb Basin Wildlife Preserve are a day trip from Placencia.
The Placencia Lagoon is an important breeding area for saltwater crocodiles, marine turtles and the rare and endangered manatees; there are also numerous species of birds. The Placencia Lagoon has dolphins, rays (the lagoon is a nursery for some species of rays), mangrove forests, birding by canoe or kayak, fishing (juvenile tarpon, snook, barracuda), and extensive wetlands.
Placencia is about a two hour drive from Belmopan, capital of Belize. The once bumpy Placencia road is now fully paved but has dozens of speed bumps), so unless you know the road well, stick to under 50 miles per hour. A modern airstrip is right at the entrance to the peninsula. Placencia is located at 16°30′50″N 88°22′0″W (map opens in new window).
Thirty years ago the area was a quiet fishing village with a narrow meandering sidewalk that served as its main street. Today this destination retains its traditional charm while offering first class amenities. A few docks jut out from the shore leaving an uninterrupted view of the Caribbean Sea and unimpeded routes for walking. Dozens of islands off the Placencia coast make for exotic day trips and romantic overnights. Below the surface whether by snorkel or scuba, divers will discover forests of coral and schools of colorful fish including the biggest of them all the, majestic whale shark.
Fly fishers look for the picky permit in search of a Grand Slam while hardly kayakers paddle from one postcard island to the next. For more leisurely island hopping climb aboard a luxury catamaran complete with a captain and catering staff.
Watch Belize Placencia Video – A Bike Ride Through The Village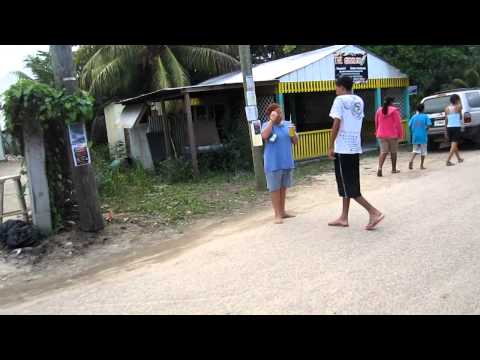 Those seeking inland adventure can take the new Placencia road to the country's most towering rainforests and its seldom visited rivers, pools and waterfalls. The peninsula runs for 12 miles and is home to the villages of Placencia, Maya Beach and Seine Bight and smaller concentrations of new residential and luxury Belize real estate developments. Accommodations on this spectacular ribbon of land range from luxury resorts to basic beach houses to everything in between.
The people of Placencia remain its greatest asset. A microcosm of the nation at large, in Placencia you would find every ethnic group including Latinos, Garifunas, Creoles, Maya,, Mennonite, East Indian and Chinese and of course hundreds of North American and European immigrants. For the visitors this means an experience that is unabashedly authentic. In Placencia no one remains of stranger for very long. From your first very first of footstep in the sand you are a welcome member of the community.
Things To Do In Placencia
Laughing Bird Caye National Park. The diving and snorkeling off this long narrow island is no laughing matter. As a protected area within the World Heritage site the waters around the caye are full of colorful and amazing marine life. Its close proximity to Placencia Village, only 11 miles, has made it a popular tourist destination.
Dive with the whale shark. During the months of April and July prime specimens of the biggest fish in the sea, the Belize Whale Shark, are easy to spot near Gladden Spit. Swimming beside these gentle creatures is a serene experience. Look for a special dive packages offered by resorts in the area.
Sailing. Several Placencia tourism operators offer all the conveniences of a resort while sailing catamarans and monohulls. Guests can enjoy stunning sunrises and breath taking sunsets while guides navigate through mangrove and white sand islands. You can choose a personal crew or a barefoot charter.
Fishing. Spend the day drop fishing for Snappers or trolling for Kingfish and Wahoo in some of the best fishing grounds in Belize. As an added treat beach barbecues are included in most tours. After you've tasted seafood cooked minutes after it's been pulled from the water you will be hooked for life.
Monkey River Tour. This tour starts off with a boat ride to the mouth of a jungle river. The mangrove you will see are home to iguanas and numerous birds while their roots shelter turtles, fish and juvenile marine life. When the boat stops at the bank you will take a nature trail to search for Howler Monkeys, which is how the nearby Monkey River Village got its name.
Placencia Inland Excursions – Wild Cats, Exotic Birds, And Fantastic Flora
At Cockscomb Basin Wildlife Sanctuary – a short drive from Placencia – all five of the wild Belizean cats, jaguar, jaguarundi, margay, ocelot, and puma, prowl the 128,000-acre jungle preserve. Human interlopers can feel the cats watching, even when they cannot see them. Canoe the preserve or hike its trails, some leading to waterfalls. The village of Maya Centre, on the Southern Highway, marks the entrance. Admission is US$5. To the west, Victoria Peak towers over the park.
Nearly 300 avian species invite bird watchers to flock to the Cockscomb preserve. Birders also enjoy Red Bank, in the foothills of the Maya Mountains. Scarlet macaws roost in the area from late December to March, flying in formations of up to 40 birds.
Near Monkey River Town — a Creole fishing village on the mainland 12 miles south of Placencia — rare birds, black howler monkeys, and prehistoric iguanas present fabulous photo opportunities during boat trips. Covered in a lush canopy, the river shore provides great habitat for the animals. To stay awhile, seek accommodations at the new beach front inns now established there. Licensed tour operations can take you to areas such as Monkey River, Cockscomb Basin, manatee watching, and cave tubing.
From the docks at Placencia, boats take visitors across the lagoon or across the Gulf of Honduras. Each weekend, the Gulf Cruza sails to Puerto Cortes, Honduras. It leaves Friday morning, arrives about four hours later, and returns Monday afternoon. Tickets are US$50 each way and available at the tourism center.
Just across the Placencia lagoon, the Creole village of Independence sits at the center of citrus, banana, and mango plantations. On the lagoon, behind the gas station, the ferry leaves several times a day, starting at 6:45 a.m. At the Placencia Peninsula Arts Festival, each Valentine's Day weekend, more than 50 artists show their paintings, sculptures, glass, furniture, embroidery, music, and dancing, starting at the Point and running up narrow Main Street.
Rent a bike for exercise, exploring back streets, or transportation. Rentals run US$7.50 for a half day or $12.50 for a full day. Some resorts offer free bicycles, kayaks, and sailboats. A taxi from the airstrip to the village is US$5 for one or two people. Check at the tourism center for details on travel schedules, tours, and hotels; email tourism@placencia.com or placencia@btl.net; or call 501-523-4045. The center also sells maps and guide books. Log on to www.placencia.com or read the Placencia Breeze newspaper at www.placenciabreeze.com
Placencia and Cruise Tourism
The villagers and tourism community have recently rejected a plan by the government and Royal Caribbean to bring cruise tourism to the peninsula. They feel it would have undesired effects on the pristine environment and status that Placencia currently enjoys.
But in 2014, the government granted permission to Norwegian Cruise Lines to establish a terminal and theme park within the sensitive Harvest Caye area near to Placencia, Court battles from conservationists and resorts in Placencia are delaying the project but it appears ot will eventually go ahead.
Over the years, more and more people heard about and decided to experience the charms of Placencia and nearby attractions such as Laughing Bird Caye, whale sharks at Gladden Spit, Mayan ruins such as Lubaantun and Nim Li Punit, the Garifuna village of Seine Bight, Monkey River and Cockscomb Basin Wildlife Sanctuary (aka Jaguar Jungle).
To find our more about other beaches in Belize, check out The Most Beautiful Beaches in Belize forum post (will open in new window).