Belize Newspapers Online Amandala
Amandala Newspaper
"Belize's Leading Newspaper"
PAC Chairman wants AG to investigate Petrocaribe loan
BELIZE CITY–Last Thursday, October 2, 2014 at the last meeting of the House of Representatives, the Government of Belize (GOB) introduced a motion called the Alba Petrocaribe Energy Loan Motion 2014 for the legislature to accept a loan in excess of over US$114 million dollars, which was borrowed over a two-year period, from 2012 to 2014.
It might have gone through without much fanfare; however, Chairman of the Public Accounts Committee and PUP Cayo South area representative, Hon. Julius Espat, has written to Auditor General Dorothy Bradley asking her to re-evaluate the authenticity of the loan, since Government took out the loan in 2012, but the loan motion never reached the House for approval until last week, yet the monies have already been disbursed.
Espat, in his letter, inferred that GOB subverted the Finance and Audit Act, since, he said, "you cannot approve something of that nature after the fact."
He said, "The problem is that the Finance and Audit Act of the country of Belize specifies that any loan above 10 million dollars needs to go to the House for ratification, for approval, and that was not done. It was not done the first time, or the second time, and we're now going into the third or fourth year, and it had still not been done. So what Government is trying to do is to table all the loans and say 'We're now seeking approval.'"
"But you cannot approve something after the fact, and that is the problem.
"Now what we are asking is that the Auditor General goes in and verifies the authenticity of the loans, verifies the legality of the loans, and to whom [the money] was dispersed. What is the quantity that was dispersed, to whom was it dispersed, and check to see if we are getting value for money," wrote Espat.
Of note is that Section 7 (2) of the Finance and Audit (Reform) Act of 2005 permits the National Assembly to authorize Government to borrow monies from any public or private bank or financial institution or capital market, but according to Espat, Alba Petrocaribe Belize Energy Limited (APBEL) falls under none of the above.
In his letter, Espat states that "it is obvious that the Government is not seeking to borrow monies from any bank or financial institution, nor from any capital market in or outside Belize, but is seeking to retroactively validate borrowings from a private company that is neither a bank nor financial institution. It is accordingly fundamentally misconceived to think that authority for any such borrowing can be derived from the resolution tabled in the House…such a resolution cannot validate or confirm the 2012 agreement in accordance with the provisions of Section 7(2) of the Act, given that the agreement can obviously no longer be 'validly entered into pursuant to the resolution', it having already been entered into without authority of any resolution whatsoever."
Espat did not say what would be his next move if the Auditor General's Office does not comply with his request, but he noted that if the Auditor General does agree to carry out such an investigation, he will ask the Auditor General to report her findings to the National Assembly before the House reconvenes for the consideration of the motion.
The loans came from Petrocaribe in the sum of US$18,031,336M; US $76,331,016M; and US $19,944,954M during the periods of 2012-2013, 2013-2014 and 2014-2015 respectively.
Petrocaribe is an oil alliance between Caribbean states and Venezuela to buy oil on conditions of concessionary payment.
Under the agreement of Petrocaribe, or Alba Petrocaribe, Belize Energy Limited, known as APBEL, buys fuel from the state-owned company in Venezuela and sells it to Trafigura, which, through its subsidiary, PUMA Energy (Belize) Ltd., markets all petroleum products in the country.
Recently, APBEL opened an office on Coney Drive in Belize City, which serves to strengthen Belize's ties with Petrocaribe.
Since the first shipment of Petrocaribe fuel arrived in Belize in 2012 under the new agreement, Belize benefited from having access to millions of dollars of finances.
The way it works is that Belize pays 40 percent of the fuel cost up front, or within 30 to 90 days of delivery. The payment of the remaining 60 percent is delayed through a concessionary arrangement, giving GOB access to about $60 million US dollars in financing per year.
Prime Minister Dean Barrow signs $67.5 million agreement with European Union
October 17, 2014
Nearly 700 cases of dengue nationally
October 10, 2014
2 shot; 1 dead
October 07, 2014
House approves $29.7 mil CDB loan for new Haulover bridge and airport road upgrade
October 03, 2014
I do not use drugs nor do I condone the use or selling of it. But Law
Belize-Guat soldiers to patrol volatile western border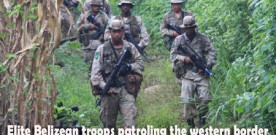 PRICE BARRACKS–On Friday, October 10, diplomats and senior military personnel from Belize and Guatemala convened at a high level meeting of the Belize-Guatemala Joint Commission in Guatemala City to discuss national security matters with their counterparts and committed themselves to several initiatives geared at preventing future conflicts near the border and decreasing illegal cross-border activities. Included among these is an agreement to engage in an unprecedented effort to conduct joint patrols at the sometimes deadly Belize-Guatemala border, an area where Guatemalans illegally enter Belize's pristine forests and plunder its irreplaceable assets – its exotic flora and fauna, and its millennia-old trees in our archaeological and national preserves.
The operations of the Belize Special Assignment Group of the Belize Defence Force (BDF) would be separate from the link-up operations they currently execute.
Belize and Guatemala meet
Guatemala soldiers are expected to tell their citizens to quit their illegal activities, because Belize law will be enforced against them
Brigadier General David Jones, BDF Commander, was present at that meeting, and on Friday, October 17, at a press conference at the BDF headquarters at Price Barracks in Ladyville, he told the audience about one of the agreed points, which involved a promise by authorities from the Guatemalan Armed Forces to assist their Belizean counterparts by doing everything they could to prohibit their citizens from illegally entering Belize and carrying out illegal activities on Belizean soil.
He said, "What was agreed is that both countries would improve on existing patrols and include joint coordinated military patrols. The patrols that we do currently with the Guatemalans are what are called link-up patrols. We go to designated points along the border from north to south. We meet there for about 15-20 minutes, exchange information and then we go our separate ways. What is being proposed now is that apart from that, the BDF and the Guatemalan Armed Forces will spend probably a day, two days, or even three days patrolling together as a unit and going into some of these same villages inside Guatemala and probably talking to these people so that they have an impression that there are two different forces and they will have their own officials informing them of where the border is, and that they should respect it.
"I think this will go a long way because the [Guatemalan] people appear to be indoctrinated that this country belongs to them and on many occasions, they are aware that Belizean law is enforced on the eastern side, but they still pretend that they don't know where the border is when the soldiers would meet them, even though sometimes they do have a good idea."
Jones also expounded on another agreement that in many ways was a direct response to the death of promising young Belizean Special Constable, Danny Conorquie, 20, who was shot to death by what are believed to be Guatemalans while safeguarding tourists at the Caracol Archaeological Reserve a month ago on September 25.
As part of a 12-point agreement signed at the end of Friday's meeting, law enforcement on both sides of the border have established a mechanism which allows for greater cooperation and intelligence sharing on crimes which take place in and around the border.
"There will also be establishment of intelligence-sharing mechanisms among the various security organizations, particularly between military to military, police to police, our Special Branch and theirs will share information. If this was in place, it would have helped a great deal in the shooting death of the police officer at Caracol because they could have called their counterparts immediately and they would have been able to take action over there and wait for the shooter to go over [to Guatemala], because we know that there was a track heading towards La Rejoya from Valentin, and if they had communication, they could have been able to intercept him.
"So, we are going to try to put mechanisms in place to share intelligence and information with each other so that as an incident occurs in Belize, and we believe the perpetrator is a Guatemalan, we call their authorities and try to get their assistance to stop them or try to capture them on the other side", Jones mentioned.
Since the Belize-Guatemalan Joint Commission convened, Jones revealed that the two sides are currently sharing their respective intelligence on the murder of Danny Conorquie in an effort to track down his killer, since they already have an idea of who the suspect is and which village he came from.
One of the contentious border points has been Monte De Los Olivos, a Guatemalan border community whose residents – illegal farmers in particular – have become well-known to Friends for Conservation and Development (FCD) rangers and the BDF for their consistent incursions into the Chiquibul National Park.
As a result, the Guatemalan government had put in place a project in that community which is designed to thwart incursions into the reserve forests on the Belize side, and since the project reportedly led to the decrease of such activities in the reserve, Jones informed us that their Guatemalan counterparts will expand it to other border villages as well.
"There is one village called Monte De Los Olivos – this is where we've had the problematic people that have been coming in to the Chiquibul, and this is the same area where the last fellow was shot and killed because of exchange of gunfire with the BDF. The Guatemalans have implemented a project in that village so that the people can self-sustain themselves and they are being educated that they are not supposed to come over on the Belizean side because Belizean laws will be enforced. That has been very successful.
"The women in that village are being given a stipend – they are given money to send their kids to school and to sustain their family," Jones detailed.
"So, 90% of the problems we had in Monte De Los Olivos have been solved," he went on to note, explaining, "There are still a few people coming across, but in that area of the Chiquibul, we have had very good success. Now that success in Monte De Los Olivos, we want to take those down to the other Guatemalan communities. The next one in particular that we would like to see that happen is in area of La Rejoya, which is just opposite the Valentin camp. That area in the Caracol Archaeological Reserve is where we deem now is the biggest threat to our security forces and to the extraction of our products", Jones noted.
Jones also told us that there were other commitments which were made that, in his opinion, will finally allow for Guatemala to actively join the effort to stop its citizens from crossing the Belizean border.
"We will conduct joint visits to neighboring communities in Belize and Guatemala to convey the commitment of both parties to improve the quality of life, community safety and to strengthen the friendly relations between neighboring towns, as well as to protect the environment. The agreement also identifies mechanisms for direct contact among the various agencies and military forces in order to establish direct, free-flowing and ongoing communications to coordinate preventative measures as well as rapid and effective responses in situations as necessary," Jones said.
He further stated, "Personally for me, what I wanted them to do was to agree to try and do more [because] I did not believe that Guatemala has been doing all they should or could to stop the encroachment inside Belize. They will [now] work closer with our military and our security forces, and we will work jointly together to try and stop their civilians from coming across.
"So, it doesn't matter how much resources we have, how much manpower we have, it won't be very successful unless Guatemala plays a part. They are our neighbor, and if they can stop or dissuade their people from coming into Belize, it will help us a great deal. We will still put the necessary resources to stop whatever encroachment – illegal or criminal activity that comes over to Belize, but Guatemala has to play a part."
"If they implement what they have pledged – what we will see in the Chiquibul and the Caracol Archaeological Reserve would be a significant reduction of encroachment and illegal activities occurring inside Belize. This will also minimize the eventuality of armed exchange of gunfire between the security forces and Guatemalans, and reduce the tension and the criminal violence and encounters", he noted.
Jones believes that once the pledges are fruitful, it will hopefully signal the start of joint humanitarian operations in both countries.
"Finally, what the militaries and the other security agents will do is work on strategies to preserve the environment along the AZ [Adjacency Zone] and to work jointly if there are any humanitarian efforts that need to occur in either country. So, the BDF and the Guatemalan Armed forces will be working together on protocols to move forward to stop these encroachments that are happening inside Belize. The Guatemalan people on their side are being informed that as long as they cross into Belizean soil, Belizean laws will be enforced", he cited.
According to Jones, Guatemala has also committed to dedicating resources to some of the villages along the border, since the encroachments and plunder of natural resources are stimulated by the needs of indigent peasants who reside in the various border communities along the border.

Carpenter shot – slug lodged in the spine
October 21, 2014
Truck driver stabbed to death in San Pedro
October 21, 2014
Belize bans travelers from West African nations affected by Ebola outbreak
October 21, 2014
Ebola scare in Belize City Harbor!
October 17, 2014
I do not use drugs nor do I condone the use or selling of it. But Law
Talking football – Part 5
BELIZE CITY–We continue where we left off introducing some excerpts from page 65 of a 1962 Souvenir Programme that "lists the results of some international matches, both at home and abroad, played between Belize football clubs (most likely the champions, as a tradition continued well into the sixties and seventies for the champion club to have the privilege of hosting a visiting team at the end of the regular season) and clubs from Honduras and Guatemala."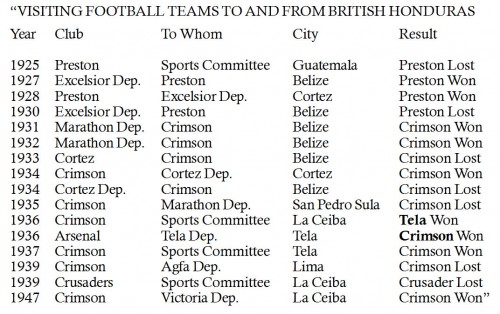 In the period between 1925 and 1947 are listed sixteen international encounters, and Belize teams won eight times, winning the last listed match in 1947. No scores were given for the games, but obviously our teams were competitive. Below is the data as given on page 65 of the souvenir booklet:
Apparently there is some discrepancy in the record for the games played in 1936, where it would seem that it should be Crimson Won in La Ceiba, and Tela Won (which means Arsenal Lost) in Tela. Nevertheless, it is noteworthy that after the long break from 1939 to 1947, no doubt due to the World War II, Belize football once again established its high ranking by defeating the Victoria club of La Ceiba, Honduras. There would still need to be some investigation to determine the level that these clubs held in regard to their national league. It would naturally be expected that these were the top ranked teams in the Honduran or Guatemalan leagues that the Belize champion teams were going up against.
A learning experience
Not mentioned in that chronicle of international visits, is an encounter between All Star and the Honduras champion, which would have been sometime around 1945-47 when All Star was leading the local league. According to C.B. Hyde, the team that made the trip was not the full All Star team, but had a few players from other teams. Nevertheless, he explains that it was not a game they were proud of, as, despite demonstrating their ability to compete, it was a terrible learning experience for All Star.
What happened to All Star, was that they outplayed their opponents in the first half with their passing game, which was always geared towards moving the ball upfield into an attack, not satisfied without an attempted strike at goal. All Star led 1-nil at the half. But their opponents, according to C.B., had devised a masterful plan for the great All Star. Their opponents defended the whole of the first half, laying back and conserving their energy. In those days there were no changes allowed, so the eleven that started the game was the eleven that had to finish. Even when they gained possession, the Hondurans would carry the ball only up to a certain point, then start passing the ball around, allowing the All Star players to tire themselves out trying to re-gain possession. In the second half, the All Star players were "knocked out", and the Honduran champions thus proceeded to unleash their attack, loading 7 unanswered goals onto the proud All Star team for their greatest loss margin, 7-1. It was the most devastating defeat that the All Star team would ever experience, but it was definitely a learning experience for a team that prided itself on applying the best technique to "the beautiful game".
The Dunlop legend
Over the years, Amandala has covered a lot of the Dunlop saga, and we won't recount the whole story here. But a couple notes not previously covered are worthwhile to complete the picture of the times that produced a team still remembered in reverential tones.
Winty J (Vincent Johnson), who grew up with the Mugger as his idol, has said that "Bobby Moore" brought Louis Antonio "the Mugger" Garbutt from Honduras at the age of 5, which suggests that Moore was either a stepfather or guardian of the young Antonio. Moore was said to be many things, including a gambler, and a shifty one at that. And he must have had some influence on the young Louis Garbutt developing a vision of his life dedicated to sports as his way forward. Cricket was a "gentleman's game," and we have heard no mention of the Mugger ever making a serious effort at playing cricket. But he was a big star in basketball (Willy Wiley Cobras and Dunlop) and football (Dunlop and Independence).
Gilbert "Pine" Hernandez, captain of Dunlop, said that when, following their championship season, manager Bobby Moore took the Dunlop team on a trip up into Mexico, he strongly suspected, from the bits of conversation he picked up, and the body language he observed as Moore negotiated with his Mexican counterpart around a table in a restaurant, while team members were eating, that Moore was looking to "sell" the players to the Mexicans. At the time, there was no professional league in Belize, but the Mexicans knew talent when they saw it, and Bobby Moore was not one to pass up an opportunity to make a deal. There is still a whole lot to learn about that trip and the subsequent disintegration of one of the great teams Belize had produced. Hopefully, Pine can sit us down one of these days and tell the whole story as he saw it.
What is certain, Dunlop was a bright flash on the scene, daring youngsters (undefeated junior champions) shaking up the adult football world by holding the reigning senior champions Diamond-A to consecutive draws; and then proceeding the very next season to prevail as Belize City champions. That was in 1958-59.
One noteworthy point of interest here is that, in the earlier mentioned list of "All Belize" football players in the 1962 Souvenir Programme, there are a number of players named as coming from the Dunlop team ("J. Young," "A. Williams," "R. Barrow," "G. Dunn," "L. Garbutt," "N. Robinson," and "W. Labriel"), which would imply they were playing on Dunlop at that time; while three other players listed as BEC members were former stars on Dunlop ("G. Hernandez," "G. Ellis" and "E. Wilson"). This would seem to suggest that, were it not for the defection of Pine, Chico and Reds, Dunlop might have indeed become a dynasty.
The complete names and familiar nicknames for some of those listed above, as we recall, would be: John Young, Anselm "Drake" Williams, Randolph "Tiempo" Barrow, Gilly Dunn, Louis "the Mugger" Garbutt, Nelson "the Roo" Robinson, Wellington Labriel, Gilbert "Pine" Hernandez, Gilbert "Chico" Ellis and Ernest "Reds" Wilson.
(To be continued)
See previous articles in the series
Talking football – Part 4
BELIZE CITY–We continue to highlight excerpts from a "1962 Souvenir Programme" provided to us by Mr. Phillip S. Hall, who was then Secretary of the Belize Football Association. (continued from Amandala of Sun. Oct. 12, 2014) [...]
Talking football – Part 3
BELIZE CITY, Wed. Oct. 8, 2014 Much of our commentary in this issue is taken from a booklet given to yours truly sometime around 1988 or '89 by Mr. Phillip S. Hall, who at the time [...]
Talking football – Part 2
BELIZE CITY–The PLB Interim Committee is reportedly having a meeting on Wednesday of this week. While we wait for word on the new season, we continue with our football musing. BELIZEAN FOOTBALL COMPARISONS Thursday, March 8, [...]
Talking football
BELIZE CITY–As there is a slight lull on the local football scene, with no definite date yet announced for the start of the next Premier League competition, perhaps it is a good time to reminisce. I [...]
Carpenter shot – slug lodged in the spine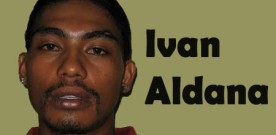 SAN PEDRO–Ivan Aldana, 24, a carpenter of San Pedrito, San Pedro, is presently fighting for his life in the Karl Heusner Memorial Hospital's intensive care unit, with a slug lodged in his spine after he was shot in the upper back.
Aldana was shot at about 10:30 last night by a man he knew while he was standing near a bar in San Pedrito.
Police said that the man approached Aldana, took out a gun and fired about five times at him. Aldana tried to run, but he was struck in the right upper back. His assailant then escaped out of the area.
Aldana was rushed to the San Pedro Polyclinic, where an X-ray revealed that the slug was lodged in his spine.
He was later transported to the Karl Heusner Memorial Hospital, where he was admitted in a critical condition.
Police said that shortly before the shooting, there had been an argument in the bar. Aldana came out and the man with whom he had been arguing left, but reportedly returned shortly after, armed with a gun.
Police say the shooter is known to them, and they are looking for him.
Belize-Guat soldiers to patrol volatile western border
October 21, 2014
Truck driver stabbed to death in San Pedro
October 21, 2014
Belize bans travelers from West African nations affected by Ebola outbreak
October 21, 2014
Alleged drug trafficker offered bail of 50 grand
October 21, 2014
I do not use drugs nor do I condone the use or selling of it. But Law
Cruise tour operators: New Ebola restrictions economically damaging
Dear Editor,
Belizean cruise tour operators, shipping agents and some ancillary cruise tourism industry operators are unsure as to what the new protocols for dealing with cruise ship visitors to the country will mean for their business, but most are uneasy that the impact will be negative.
At a press conference last Friday, Immigration Minister Hon. Godwin Hulse announced what he termed a new protocol for cruise tourists to Belize City. Hon. Hulse told the nation: "Persons who would travel beyond the tourism village would be the ones who would present themselves to immigration for the necessary permission to land. Persons who would remain within the vicinity of the tourism village were ticked-off on the manifest. Effective immediately, that protocol has changed: every single person who disembarks from the cruise ship, the passport of such persons will be reviewed by immigration to ensure that no person has been in the high risk area of West Africa within the last 30 days."
Hon. Hulse had also announced a ban on visitors from "… Guinea, Liberia, Nigeria and any other country the Ministry thinks is affected …" by the outbreak of Ebola in West Africa.
Belizean cruise visitors tour operators in particular are openly questioning the need for the new protocols and are convinced that it will have a negative impact on their industry. One operator has opined that it would literally take several hours to check the passports of the thousands of cruise passengers seeking to visit Belize when the ships hove to in Belize's harbor. The delay would drastically reduce the time visitors have to spend onshore and would preclude many from going on tours.
Neither Hon. Hulse nor any other government authority has said how they intend to address the logistical bottleneck that implementing the new protocol will create.
Coincidentally, the cruise tourism season is all set to kick into high gear this coming week with visits on Thursday by two large cruise ships with nearly 6,000 visitors. Operators are hopeful that their fears and concerns will have been addressed by then.
The prospect of cruise visitors having to wait in line for hours to enter Belize is daunting one. Operators are convinced that few will, and that as a result, their economic prospects will nose-dive.
Glenn Tillett

Act as one race – the human race
October 21, 2014
Romel Cuello's ideas for the border
October 17, 2014
Help Hopkins!!
October 17, 2014
Of truck mufflers and "jake brakes"
October 17, 2014
I do not use drugs nor do I condone the use or selling of it. But Law
PLB Opening Season 2014-2015 under way, Week 1 results, Bandits vs Police on Wednesday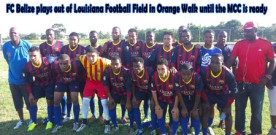 BELIZE CITY–The long awaited start of the Premier League of Belize Opening Season 2014-2015 finally took place without much fanfare over the weekend, with 3 of the 4 scheduled matches being played. The big opener, featuring defending champions Belmopan Bandits and sub-champions Police United on Saturday night at the Isidoro Beaton Stadium, was postponed due to weather, and will now be played this coming Wednesday night instead.
Because of the late start of the season, and a CONCACAF requirement for two tournaments to be completed before a candidate for next year's Champions League can be selected, the present Opening Season will have to be an abbreviated one. The addition of Wagiya and Placencia Assassins makes a total of 9 teams in this tournament, and for the first time in many years, the regular season will be a single round-robin, so each team will play only 8 regular season games, before the top 4 enter the home-and-away semifinals. The championship will also be a best-of-2 games series.
Belmopan Bandits were back to back champions in 2013-2014 and had earned a spot in the CONCACAF Champions League tournament, but the FFB Stadium field failed the CONCACAF inspection. Clubs are still hopeful that everything will be done to ensure no repeat of that disappointment next year. The champion of the Opening and Closing seasons with the best aggregate regular season record will earn the coveted berth in the 2015 Champions League.
Three Week 1 games were played yesterday, Sunday.
Down south at the Toledo Union Field, 2 first half goals allowed visiting Wagiya FC to come away with a 2-0 victory over home standing Paradise/Freedom Fighters. Shaking the net for Wagiya were Abraham Chavez (31') and Hector Gomez (40').
Meanwhile, out west at the Norman Broaster Stadium in San Ignacio, it was Verdes FC taking the 4-2 win over San Ignacio United FC with goals from Ricardo "Cheety" Jimenez (19'), Nagib Guerra (45') and Jarrett Davis (56' & 87'). San Ignacio goals were by Joel Guzman (29') and Julian Maldonado (81').
And up north at the People's Stadium in Orange Walk, home team Belize Defence Force FC clipped FC Belize, 2-1, with goals from Vallan Symms (30' PK) and Shane "Chucky" Flores (48'). The lone goal for FC Belize was by Oliver Hendricks (65' PK).
The Bandits vs Police game is now set for Wednesday of this week to complete the Week 1 fixture:
Week 1 back match:
Wednesday, October 22
7:30 p.m. – Belmopan Bandits vs Police United FC – Isidoro Beaton Stadium
Placencia Assassins, who were resting in Week 1, will see their first action in Week 2 this coming weekend.
Week 2 schedule:
Saturday, October 25
7:30 p.m. – Placencia Assassins vs Police United FC – Michael Ashcroft Stadium
3:30 p.m. – FC Belize vs Verdes FC – Louisiana Football Field
Sunday, October 26
3:30 p.m. – Paradise/Freedom Fighters vs Belize Defence Force – Toledo Union Field
3:30 p.m. – Wagiya FC vs Belmopan Bandits – Carl Ramos Stadium
Talking football – Part 5
October 21, 2014
FFB Women President's Cup reg. season ends, playoffs begin
October 21, 2014
Phillip Willoughby 5-A-Side Week 3 results
October 21, 2014
WW race results
October 21, 2014
I do not use drugs nor do I condone the use or selling of it. But Law
Belize seriously considers Chalillo II and new hydro plants on Swasey River
BELIZE CITY–Belize's energy demand will grow substantially over the next few years, and the Public Utilities Commission (PUC) has been reviewing bids for 37 new projects from 22 companies which hope to make the final cut of designated enterprises that will be chosen to supply 75 megawatts of power over the next 10 years, including 15 megawatts from wind and solar sources.
The process opened last October, just over a year ago, and formal proposals were unsealed in June 2014.
Initially, there were 42 expressions of interest, including expressions from companies such as Belize Natural Energy and UNO Belize, but these did not submit formal bids.
Ethanol plant, cohune oil and clean coal proposals also rank among top bids
This afternoon, Monday, October 20, 2014, the PUC unveiled the top contenders at a press conference held at the Radisson Fort George Hotel in Belize City.
From among the 22 companies, there have been just a handful of disqualifications, and the remaining companies were ranked based on the companies' ability to effectively execute the project, as well as the price at which they propose to sell power to the Belize Electricity Limited (BEL), the premier power distributor in Belize.
Topping the scale for the best price was Ted Sorenson's Southern Renewable Energy Limited (SREL), which has proposed three hydro projects for a cumulative capacity of 27.3 megawatts. The estimated cost of these projects is just over US$100 million.
Derek Davis, PUC's Director of Electricity, notes that because the project is hydro-based, the company would not be supplying that full capacity year-round. Davis said that SREL is the only company which has operated in Belize before, having operated the Hydro Maya facility in southern Belize.
Sorenson's company proposes to build a hydro facility above Mollejón, and two more on the Upper and Lower Swasey River, near Placencia, Stann Creek.
Next on the PUC's agenda is a dispatch simulation exercise, via which they will develop models to see how the proposed projects would work over the next 15 years, and more importantly, what mix of projects will give Belizeans the best bang for their buck.
Following this exercise, recommendations will be made to BEL, which will engage the winning bidders in final negotiations for a binding power purchase agreement.
While SREL's Chalillo 2 Macal River was ranked at the top with a score of 87%, the bid by GSR Energy Limited, whose local representative is Glenford Eiley, ranked second with 86.69.
Davis explained that this project proposes to use sugar cane harvested by Mennonites in Blue Creek, Orange Walk, to produce ethanol via a cogeneration facility for export. At the same time, the facility would produce electricity for the national grid. The ethanol, said Davis, would be an anhydrous fuel grade that could be used in cars.
The bid of Cohune Energy Limited, which we previously featured in the Amandala newspaper, was ranked 7th and is listed among those that would be subject to the dispatch simulation exercise.
The top three projects for simulation for wind and solar power are Saturn Power Inc., represented by Jeremy Goetz; GROSS LLC, represented by Rodrigo Molina; and Blair Athol Power Company Ltd., represented by Allan M. Sharp.
Although 3N1's project proposal to produce power while purifying sea water for consumption was disqualified from among the bids for firm energy, Davis told us that the PUC would still propose a pilot project based on this new technology. He said that the proposed technology, which was pitched to supply 25 MW of power to the national grid, has technically not been operational anywhere else in the world and so it is considered "too risky" to form part of Belize's firm capacity energy mix. Davis said, however, that the proposal could be introduced on an experimental basis, and so 3N1 may not be completely out of the picture.
Most of the companies bidding to supply the 75 megawatts of new power are foreign-owned, with some of them having local joint venture arrangements.
John Avery, PUC Chairman, noted at today's press conference that on October 7 of 2013, the PUC opened the process with a request for proposals, and there were no restrictions on who could submit proposals to satisfy the medium-term demands for electricity supply in the country.
He said that the bid document explained that the proposals must satisfy some 60 MW of firm capacity and 15 MW of intermittent renewable supply, which are to be added over the years, as the demand arises, with the purpose of securing adequate supply in-country to complement some of the supply from Mexico but also to enable the country to become self-reliant in satisfying its basic demand.
Avery said that the intent is also to implement the Government's policy to promote clean renewable energy supplies in the country.
Avery explained that 4 companies were disqualified because they failed to score a minimum of 15 points on the management and technical component of the scoring grid. The rest were scored based on the least overall cost. They range from US$00.10 to US$00.30 per kilowatt hour.
Avery said that the PUC expects the final simulation to be completed by the end of this month, October, with the final report to be completed next month.
Projects are also subject to environmental clearance requirements before they could be considered for implementation.
According to Davis, the PUC's decision on the bids should be online tomorrow, Tuesday, at www.puc.bz.
Belizeans honoured by the Queen
October 17, 2014
Ebola death in the US; Belize rushes to get ready
October 10, 2014
Why Belize is losing the war for Chiquibul
October 07, 2014
Viral Caracol video documents aftermath of Danny Conorquie's murder
October 03, 2014
I do not use drugs nor do I condone the use or selling of it. But Law
Farrakhan in the footsteps of Chavez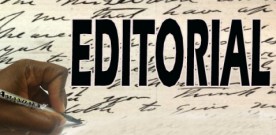 "Like most religious people, the Pope is idealistic but not realistic. I think he would benefit from reading Father de las Casas' books, The Disruption of the Indies and The Tears of the Indians. I would also refer him to Eric Williams' From Columbus to Castro and Documents on West Indian History. After reading these books, he might understand why most of us, both African Americans and Indigenous Americans, lack the capacity to 'forgive' or forget the monumental crimes committed against our people."
- pg. 21, INTRODUCTION, Christopher Columbus and the Afrikan Holocaust, John Henrik Clarke, EWorld Inc., 1993
Even as his Venezuelan predecessor, Simón Bolívar, had done two centuries ago, the late Venezuelan president, Hugo Chavez, dreamed of uniting the Latin American and Caribbean nations south of the Rio Grande in a grouping which would be able to challenge the hegemonic power of the colossus to the north – the United States of America.
In his radio and television presentation broadcast regionally yesterday afternoon from Kingston, Jamaica, Minister Louis Farrakhan (whose father was born in Jamaica and his mother in St. Kitts) explained his dream of seeing the Caribbean, Central American, and upper South American nations work more closely together. Farrakhan believes that the big problem is one of communication, because of language differences. The abovementioned nations are post-colonial constructs, which use the languages of their former colonial masters – Spain, England, France, and the Netherlands.
Since his visit last year to Belize, we have noted that Minister Farrakhan is quite careful in handling the problem which exists between Spanish-speaking Guatemala and English-speaking Belize. The 2014 problem exists because of a Guatemalan claim to Belizean territory which dates back to the nineteenth century colonial era, when Great Britain controlled Belize, which became an independent, sovereign nation-state in September of 1981.
The Minister was not shy, however, with respect to indicting previous Popes of Rome who had encouraged and blessed Spanish and Portuguese imperialist adventures which featured the enslavement of millions of Africans and the murder of millions of Indigenous Americans.
Minister Farrakhan was marking the 19th anniversary of the "Million Man March" he had successfully organized in the United States in 1995. Sunday afternoon was the first time an anniversary of that event had been celebrated by the Nation of Islam outside the borders of the continental United States. (Minister Farrakhan, who is 81, lives in Chicago, Illinois.)
There was a significant difference between slavery in the United States and slavery in the British Caribbean. In the Caribbean, the British essentially encouraged the education of black people in both the slavery and the colonial eras. In certain states in the United States, however, there was a conscious and organized effort to prevent black people, both in the slavery and post-slavery eras, from learning to read and write and think in an educated manner.
As a result of the relatively superior education West Indian blacks brought to the United States after World War II, it was, ironically, Caribbean blacks who benefited immensely from the modern African American civil rights struggle, which began in 1955 with the Rosa Parks incident in Alabama. When civil rights legislation was enacted by the United States government in 1964 and 1965, and American businesses and corporations were pressured to include blacks in management and more skilled employment, Caribbean blacks were better equipped educationally than American blacks to take advantage of the new opportunities, even though it was American blacks who had fought to create those new opportunities.
When Jamaica's Marcus Garvey and his Universal Negro Improvement Association (UNIA) exploded on the United States scene out of Garvey's Harlem headquarters in the early 1920s, powerful black American leaders found different reasons to oppose Garveyism. Garvey always insisted that "truth crushed to earth shall rise again," and even though he was jailed by the American government in 1925 and deported to Jamaica two years later, Garveyism began to rise again in the 1930s, in a metamorphosed form, in his Jamaican homeland with the Rastafarian movement. That Rastafarian movement is what gave Jamaica, the Caribbean, and the world, the incredible musical prophet, Robert Nesta Marley, in the late 1960s and 1970s. Marley became an international phenomenon.
Garveyism in fact influenced the black American struggle at the roots level even after Garvey himself was deported from the United States. Garveyism had significant influence on the Hon. Elijah Muhammad, who founded the Nation of Islam (NOI) and converted both Malcolm X and Louis Farrakhan to the NOI. (Malcolm X's father, Earl Little, had been murdered by the Ku Klux Klan because of his Garveyite activities in the American Midwestern states.)
Minister Louis Farrakhan's decision to move his pulpit to the Caribbean, if only for Sunday's impressive event, was a strategic one which proves how creative in his thinking the Minister remains. His 1995 Million Man March was a supreme effort which the United States power structure and their media did their best to ridicule and derail, but the Minister's visionary initiative proved a major success.
On Friday on the CNN television network, their Wolf Blitzer derided the fact that "little Belize" on Thursday, October 16, had refused to cooperate with an American State Department proposal which, at that specific time, appeared to the Prime Minister of Belize to expose the vulnerable Belize population to the terrifying ebola virus.
The American State Department was playing politics. The Barack Obama-led Democratic Party government has mid-term elections coming up on November 4. They are under severe attack from the Republican Party, and the serial mishandling of the hospital case in Dallas, Texas involving the first ebola patient to enter the United States, one Thomas Duncan from Liberia, has embarrassed the Obama administration. In the course of their frantic damage control, the Obama administration wanted Belize to pretend that there was no danger involved with the processing of a cruise ship passenger who was in self-quarantine because of having handled Duncan's lab specimens two and a half weeks before.
Belize, little Belize, knew that there was enough danger here where we had to refuse the request of the mighty United States of America. The message to Wolf Blitzer is this: In Belize, Mr. Wolf, we know how to read and write and think. Wheel, sir, wheel and come again.
Power to Belize. Power to the people.
Belize's real
October 17, 2014
The colossus and the compromised
October 10, 2014
Belize's survival option
October 07, 2014
Respect our army; equip our army
October 03, 2014
I do not use drugs nor do I condone the use or selling of it. But Law