Belize Newspapers Online Amandala
Amandala Newspaper
"Belize's Leading Newspaper"
Hattieville chairman disappears
At present, an extensive search is underway between the villages of Hattieville and Freetown Sibun in the rural Belize District as co-workers and authorities are trying to find the current acting Hattieville chairman, Kevin Carcamo, 43, a seismic surveyor who left his Hattieville home yesterday morning for his workplace, Discoverseis, where he embarked on a routine trek to conduct seismic surveys along with six other employees in a vast area covered with bush and swamp on the outskirts of Hattieville.
Carcamo's family became worried about his whereabouts late yesterday evening when he did not return home after work, after which his common-law wife, Shawn Banner, made a missing person's report to the Hattieville police, who, along with Carcamo's colleagues, immediately began a search that lasted until the wee hours of this morning, Monday.
So far, the search has proved futile, and today, Amandala spoke with Rural Executive Officer, ASP Chris Noble, who told us about the police's efforts in tracing Carcamo since receiving the report late last night.
He said, "The report came to us between late last night and early this morning, but since then, several things have been done to attempt to locate him. We're hoping that the gentleman is located alive and in good health – he works for a company in that area and his work requires going into the bush. We believe that there may not be cellular service in that area, so we have sent personnel into the area who are working with the Belize Defence Force (BDF), the K-9 Unit and ourselves, along with villagers and the company he works with."
Noble explained that at this time, police have little information regarding the incident since receiving the news, but said that they are working based on the information which was presented by people who live in the area, and from the workers who were along with Carcamo when he went missing.
Amandala spoke with a relative of Carcamo, who told us about the family's reaction upon learning of Carcamo's disappearance.
She said, "Yesterday, me and my husband were calling him, but we were not able to contact him, so I told my husband to call my sister [Carcamo's common-law wife].
When we called her, she said that he hadn't reached home from work as yet. Then, about 8:00 p.m., she called us and told us that Kevin was left at work, so we came here [to Hattieville] in our vehicle from Lemonal, and she told us what happened.
"She said that a man who works with Kevin came to look for him, and she told him that Kevin had not come home yet, and so the man asked how Kevin had not come in yet when all the other workers had already come in [out of the bushes].
"That's when we knew something was wrong, and so she looked in a book that he had with some phone numbers, and she called his boss and told him that Kevin was left by the lagoon, and so they called his brother and he [the brother] went along with his boss to look. They came in like 3:00 a.m. this morning, and they didn't find any sign of him."
The relative mentioned that Carcamo's common-law wife is extremely worried, and wants to know why he was left behind by the group of workers.
"If you are in a group, why would you leave that one person; if there is supposed to be a supervisor that is in charge of the group, and that supervisor knows that everybody has to sign out of work, so we don't know what happened to Kevin because he did not get on the boat to return after the trek," she said, adding that, "they say that maybe he went into the bushes to urine and he lost contact with his group, but that is all we could say. We don't know if they hurt him because he doesn't have any enemies at his job; we know the area has a lot of bushes and swamp."
Carcamo's vehicle was left by his workplace, and since last night, employees of the company and his relatives and some villagers have been frantically looking for him.
This morning the police got involved after the report was made, and we understand that two helicopters are being used in the search, but they haven't found anything so far.
"The place is very big, but it has crocodiles, snakes and even jaguars, so they don't know why he decided to separate himself from the group he was with. We don't know what could have happened to him. His phone was off from yesterday at 10:00 a.m. because Hattieville had a blackout and he couldn't charge it," his relative related.
She also said that Carcamo mentioned that he was feeling tired yesterday morning and did not want to go to work, but he still went.
His common-law wife, on the other hand, believes that she should have been told about Carcamo's disappearance from the time he did not return with his group late yesterday afternoon.
For now, the family is praying for the best, and told us that Carcamo is a good-natured person and a popular village chairman who has been working with the seismic exploration company for several months.
We also attempted to find out how Carcamo might have gotten separated from the group from the Discoverseis, the company with which he works; however, members of the company refrained from commenting on the matter when we visited their offices this afternoon.
(Ed. NOTE: Unconfirmed reports to us very late tonight are that Carcamo was found in a cave and was being transported to an unnamed hospital for treatment. The Police Press Officer, however, could not confirm the information, and the Karl Heusner Memorial Hospital told us tonight that they had no one by that name at the hospital.)
Preacher stabbed to death in church yard
A well-known preacher in the community, Oscar John Lambey, 28, of Rivero Street Extension, was found dead at about 6:20 this morning in the Ephesus Seventh Day Adventist compound, in the Cinderella Plaza area.
The death of the preacher occurred just 24 hours after Lionel Sampson, 28, was found dead at about 6:30 yesterday morning, Thursday, after being shot and killed while walking in the Iguana Street Extension area on Gravey Street in the Collet Division.
Sampson was the eleventh person murdered since deadly violence escalated, beginning June 7, 2014, when a 16-year-old girl was shot in the Princess Hotel and Casino parking lot. The bullet is still lodged in her chest.
Lambey was found by the caretaker of the church when he was making a routine security check this morning in and around the compound.
Inspector Santiago Ciau of Precinct 1 Police said that at about 7:00 this morning, they responded to the report of a dead man in the compound of the Ephesus Seventh Day Adventist Church on Wilson Street, and on their arrival, they saw the body of a man lying face-up on the ground about 10 feet behind one of the buildings on the compound.
According to police, there were three large stab wounds in his right upper back, and a stab wound in the left side of his chest, in the area of the heart. Police believe Lambey died shortly after midnight, around 12:30 a.m.
Ciau said that they suspect that robbery was the motive for the murder, since Lambey was found with the pockets of his pants turned inside out, indicating that he had been searched.
Lambey's aunt, Bernadette Locario, told Amandala that her nephew was a Christian, and spent his time preaching about the Bible to people. He was not involved in gang activity or violence – the Bible was his life, she said. Lambey, she told us, went about preaching and went to any church, but he mostly attended the Central Assembly of God, the Ephesus Seventh Day Adventist Church and the Church of God.
Locario was stupefied that he had been so brutally killed. She wants the killer or killers to tell her why they killed him, because he did not deserve the brutality.
Locario said that Lambey was at her house yesterday, Thursday, where he took a bath and afterwards she fed him. He told her that he was going to City Hall to get a document so that he could continue his preaching. He then left her house and that was the last time she saw him alive.
This morning, Locario said, she was at her home when her neighbor came and told her that Oscar had been killed. She then went to the morgue to see him.
Ayna Lambey Joseph, Lambey's cousin, who was raised along with him by her mother, said that she is shocked, because Oscar was always preaching about the Bible to others, and that was his passion. She told Amandala that when she got a call that a dead man had been found in the Ephesus Seventh Day Adventist Church compound, and that he resembled Oscar, she rushed to the morgue to see him, but on her arrival, she was not allowed to see the body, because she was told that a police investigation was ongoing.
She was asked her relation to him, and other pertinent questions, which she answered, and she was informed that the autopsy would take place at 1:00 this afternoon, Friday. When the autopsy began, she was allowed into the room, and she identified Lambey, Joseph related.
Joseph said that Oscar loved his family, and spent a lot of time with them. Four of his family members live in the Rivero Street Extension area; his sister lives in the Fabers Road area; his cousin lives in Lords Bank, Ladyville, and he also has relatives who reside in Sandhill and in Orange Walk.
Joseph said that wherever Lambey went, Lambey preached to people, and they supported him with food and shelter for a few days, after which he would travel to the homes of other family members, and would preach in the localities of the relatives he visited, and they also supported him. He did not live in a fixed area, but instead constantly moved around to preach and spread the Word, she explained.
Lambey touched the lives of many people. Joseph said that after the news spread that he had been killed, a woman went weeping to her house, and told her that Oscar had been preaching to her regularly.
She and the family want to extend thanks and appreciation to the many individuals who have reached out to them to extend their sympathies.
One woman told Amandala that she saw Oscar yesterday evening and that he had told her that God loves her. She said that she was shocked when she heard that he had been stabbed to death. Also, taxi operators in the Cinderella Plaza area said that they saw him yesterday evening preaching in the area.
Police have begun their investigation into this, another senseless murder. Police have so far detained one man who they say may be able to assist them with the investigation.
Oscar John Lambey is survived by 7 aunts, including Bernadette Locario; his sister Gloria, several cousins; 3 uncles, and a host of friends. He also leaves behind the church communities of which he was a part, which he loved dearly, and those to whom he ministered.
Dara's annual bike ride & Lucky Dube Tribute July 27
Well-known grassroots Belizean humanitarian, Joel "Dara" Robinson, of Belize City, is once again embarking on two annual ventures through which he aims to raise funds to support his feeding program which caters to needy primary school students on school days.
Today, he visited our compound and told us about both the 3rd Annual Ride for Hunger, which takes place on Sunday, July 27, and the 7th Annual Tribute to Lucky Dube, which is scheduled for the following Sunday, August 3.
Dara aims to bring awareness to the challenges we face as a society in regards to poverty and underprivileged families
The Ride for Hunger will start from SMART's Headquarters at 2 ½ Miles on the Philip Goldson Highway at 6:30 a.m. sharp and will make its way up to the Burrell Boom Cutoff at Mile 13, where the riders will turn left into the Burrell Boom/Hattieville Road and travel to Hattieville on the George Price Highway.
From there, the riders will journey back to Belize City, passing through the Central American Boulevard and concluding the ride at SMART.
Dara told us that he is pleased with last year's turnout of over 300 cyclists, and added that this year, there will be two 10-minute breaks in order for riders to rejuvenate themselves along the way – the first being at the CDS Gas Station on the Burrell Boom/Hattieville Road, and the second at the 8 Miles Community on the George Price Highway.
Robinson emphasized that the purpose of the event is to continue his initiative to feed hungry schoolchildren in his area, and he invites all members of the public to partake in the ride, not only to get a good Sunday workout, but to bring awareness to the challenges we face as a society in regards to poverty and underprivileged families.
He also noted that it will not be a race, so anyone can feel free to join in. Police escorts and medical personnel will be on hand, and there will be refreshments and water along the way and at the end of the ride.
The registration fee is $5.00 and registration begins at 5:00 a.m. on the morning of the ride.
Dara is also a reggae music lover, and is planning his 7th Annual Tribute to the late, legendary reggae singer, Lucky Dube, which will take place on Lucky Dube's birthday on August 3rd at the Bird's Isle in Belize City from 4:00 p.m. to 12:00 midnight.
The theme of the tribute, according to Robinson, is to "celebrate life and listen to the message within the music while giving thanks to the Creator for our lives because we are nothing without the breath of life."
The show will feature live videos of Lucky Dube and other artists on "the big screen", as well as music from local DJs such as the Mad Rocka, Unity Sounds, DJ Vintage, DJ Dalla, DJ Biggs, and Cloud 9 Sounds, all backed up by Stone Jam Sounds.
Dara stated that the entrance fee will increase from $7 to $10, since there will be police security to ensure everyone's safety, and he encourages supporters to come out early and enjoy the conscious reggae vibes, and to bring along canned food or school supplies that they wish to donate at any of the events.
According to Robinson, another Tribute to Lucky Dube will take place on Saturday, August 16, in Dangriga, to accommodate his southern supporters.
Warring Ladyville couple bound to keep the peace
"I love her … I must have taken 30 licks in my head …I am not going back," husband told the court. 
A Ladyville couple who have had a stormy, violent relationship was ordered to keep the peace for one year when the woman appeared before Senior Magistrate Sharon Frazer to be arraigned on charges of wounding and use of threatening words against her husband, who professed his love for her and asked the court to drop the two charges.
When Magistrate Frazer asked Natalia Wade, 44, a security guard of 100 Milpa Site, Ladyville, what was her relationship with the virtual complainant, a man who was wearing a fez in the courtroom rose and identified himself as Keith Staine. He told the court Wade is his wife and he was the one who filed the police report against her.
When the 39-year-old Staine removed the fez from his head, a number of injuries became visible.
Frazer told Wade, "I am seeing scars on him and he went to the police to make a report against you."
Wade replied, "We have gone through domestic violence four times and I drop the charges."
"I think he would be a fool to come here and tell me that what I am seeing you did not cause. In the face of the court he would be lying," Frazer said, adding, "there is no happiness ina fu unno paradise."
The Senior Magistrate told the couple, "Four reports to police, unno can't deh together. We have to come to the realization that something is wrong, Miss."
Frazer told the couple that there was obviously violence in their home, and things were not going well. "You are here for an offense that could land you in the Central Prison for 7 years," she told Wade.
Staine told the Magistrate, "We still have a pending case."
"I married her because I love her," Staine explained, "I know now that I am not going to be together with her. My family was distraught because of what happened."
He continued, explaining what sounded like a nightmarish relationship in which violence was always present in their home.
"I love her and I care about her, but I must have taken 30 licks in my head. I am not going back," Staine told the court.
Staine described for the court how he got sprayed with pepper spray twice, how he was handcuffed and tied up and beaten by his wife.
He concluded, however, saying, "I don't have any feeling that I would want her to go to jail."
When it was her turn to speak, Wade narrated her share of distress in the troubled relationship. She told the court that Staine locked her up in the house and sealed off the windows with zinc so that she could not come out.
"He has sex with me without my permission," she explained, "he promised that he would not touch my skin again."
She said Staine called her all kinds of names, including "bitch" and "whore."
Frazer told Wade, "When you went to family court, you were the victim. But today, you are the offender; you are charged."
At this point, Wade broke down and began to cry.
"You should never have been here with tears running down your face," Frazer told Wade, "that is not love, and you are right here telling me that he forced himself on you."
Frazer told Wade, "While I am going to dispose of this matter today, you don't need this. This is 'murderation' waiting to happen."
After dismissing the charges against Wade, the Senior Magistrate bound both of them to keep the peace for one year.
"If the peace is breached, come with $1,000 in your hand to pay the court, or be prepared to go to jail for 6 months," she told both of them.
After signing the court documents, Wade told Amandala that she and Staine have been together for one year, and were married at the Muslim Masjhid, "because we are Muslims."
"I try to reach out to the Imam to help us," Wade told us.
"As women, we are not supposed to go through things like this. Everybody don't know what happens behind closed doors. I've gone through a lot of things, but I don't say anything to anybody," she said.
Wade added that her husband is a much calmer person when he takes his medication. She said that according to Staine's mother, he has been diagnosed as schizophrenic since he was 19 years old.
Belize shut out in first two matches at UNCAF U-20 qualifiers, rough days ahead for Belize football
The Belize National U-20 squad is yet to score a goal, having lost its first two games at the Central American U-20 qualifiers in El Salvador on Thursday of last week and this afternoon, respectively. On Thursday, we lost to host country El Salvador by a 6-0 margin; and today, we lost to Nicaragua, 4-0. Do you know the members of our National U-20? Have you seen them play?
Belize plays Panama on Wednesday, Honduras on Friday, Costa Rica on Sunday, and Guatemala on Tuesday. Nicaragua was considered our weakest opponent, so it doesn't look good for our boys.
While the rest of Central America was focusing on preparing their national teams for this major event, we were expending much energy and limited resources on Grassroots football and two years of an open interdistrict/President's Cup tourney.
Our youths are overmatched, but we can only pray for them to have the strength to keep on giving their all. We are to blame for not preparing them well.
Our National "A" Team has not yet been called up, and the Copa Centroamericana, the qualifier for the CONCACAF Gold Cup, takes place in the U.S. from September 3-13. This is scary; our boys will put up a fight, as they always do. We can't pull out now.
The past FFB President must be smiling, but he had a hand in the financial hurdles distressing the present administration. Nevertheless, that was still no excuse for not giving the promised priority to the youth national competitions.
Where the Champions League and the Belmopan Bandits are concerned, the same rule applies. Coach Leroy Serrier Lewis is reportedly long gone back to Costa Rica, dissatisfied with the efforts made to carry out the steps he recommended to get the team ready for the level of competition it will face in Champions League.
In Belize City, for sure, football is in shambles. The MCC has been closed since June 2, and all that has been done there is some loads of sand and bagasse were spread over the surface of the field. Nothing else was done to the infrastructure, and the planted grass has mostly died for lack of watering.
Our season of national celebrations will be severely tested by our football challenges up ahead.
FFB President's Cup weekend results
The FFB President's Cup tournament continued with 3 games played yesterday.
Down south at the Carl Ramos Stadium in Dangriga, visiting Sagitun FC clipped the home team Pomona United, 2-1, with goals from Darren Thompson (2') and Rollin Burgess (65'); while Jevon Aranda (60') got the sole tally for Pomona.
Out west at the Isidoro Beaton Stadium, the home team was successful, as Roaring Creek United dropped Estrellas FC of Toledo by a 4-2 margin. Shaking the net for Roaring Creek, with 2 goals coming from the penalty spot, were Kenny Williams (11'), Alden Coleman (35' PK), Alexander Watson (40') and Orin Reneau (83' PK); while Estrellas' goals were by Ernest Lambey (6') and Christopher Burke (42').
With the MCC closed since June 2 for renovations, the Belize District Stars played their home game at the Ladyville Football Field, and the visiting Progresso FC came away with the 2-1 win, courtesy of goals from Eliazar Itza (20') and Alexander Diaz (75'). Delroy Andrews (12') scored in the losing effort for Belize District Stars.
Upcoming weekend matches:
Saturday, July 26:
7:30 p.m. – Sagitun FC vs Benque DC United – Michael Ashcroft Stadium
Sunday, July 27:
3:30 p.m. – Progresso FC vs Roaring Creek United – Louisiana Football Field
4:00 p.m. – Belize District Stars vs Pomona United – Ladyville Football Field
4:00 p.m. – Estrellas FC vs San Antonio FC – Toledo Union Field
City Boys are champions of Smart 13 & Under Football Tournament 2014
The 3rd Annual Smart 13 & Under Football Tournament climaxed on Saturday, July 19, at the Yabra Football field where the 3rd place game was followed by the championship match, and then the awards ceremony.
In the 3rd place game which started at 10:00 a.m., Brown Bombers got a goal apiece from Jovann Ramos and Dion Cacho to defeat Collet Strikers, 2-0. Missing from the Collet lineup was their star defender, Shemar Bowen, who had already been selected for the Best Defender award.
The championship match between #1 seed City Boys and #2 seed Rising Stars was another "down to the wire" affair, as the 20-20 regulation ended scoreless; and the 5-5 overtime period also failed to produce a goal. So it was on to penalties, and two early misses by Collet allowed City Boys, who were perfect from the penalty spot, to clinch the championship with their fourth kick, winning by a 4-1 margin.
In the awards ceremony following the championship game, Smart representative Anthony Mahler was on hand to distribute individual and team trophies to the first, second and third place teams. City Boys are the 2014 champions; 2nd place went to Rising Stars; and 3rd was Brown Bombers.
Individual award trophies were also distributed as follows: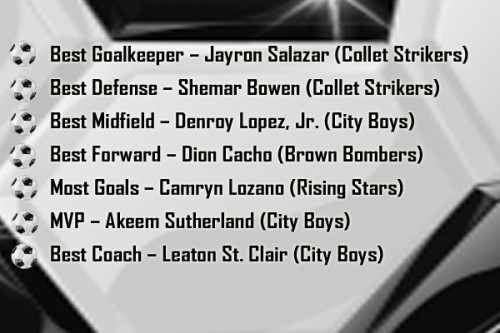 Tournament coordinator Stanley "Jordan" Reneau confirmed today that three of the kids from the Smart Mundialito – Dion Cacho, Jovann Ramos and Shemar Waight – will be travelling to Miami on Sunday, July 27, to participate in the FC Barcelona Football Camp, which runs from Monday, July 28, to Friday, August 1. This is the second year that Smart is sponsoring the trip to the FC Barcelona Camp which will include over 200 kids from across the U.S. Mundialito coordinators Stanley "Jordan" Reneau and Tyrone "T-Bone" Muschamp will accompany the kids to the Camp in Miami.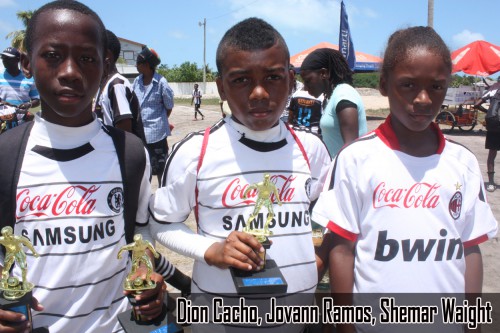 Cañeros "outraged" at BSI's 51-cent bagasse proposal
The farmers do not believe the sugar company, BSI, is acting in good faith
In a unified show of defiance today, local cañeros gave an outright "thumbs down" to a proposal which was made by factory owners, Belize Sugar Industries (BSI)/American Sugar refineries (ASR), at a general meeting staged by the Belize Sugar Cane Farmers Association (BSCFA) at the Escuela Secundaria Tecnica Mexico in San Roman Village, on the outskirts of Orange Walk.
The sugarcane farmers are outraged by BSI's offer to pay them 51 cents per ton of bagasse, especially since they (the cane farmers association) retained the expertise of technical professionals who have informed them that in reality, the farmers should be able to get up to $4 per ton of bagasse, a valued byproduct of sugar cane, which is currently sold by BSI to power producers BELCOGEN, who, in turn, sell it to the Belize Electricity Limited (BEL) after it goes through its process of production.
Prior to the meeting, BSI/ASR had given the farmers an ultimatum – requiring that the BSCFA and their members make a decision by the beginning of next month, August, to either accept the 51-cent bid, or receive nothing at all. After the meeting, when we spoke to the vice chairman of the BSCFA's Committee of Management, Alfredo Ortega, he made it clear that based on the farmers' response, BSI's offer is simply unacceptable.
He said, "The farmers didn't accept the 51 cents [proposal]; instead, they have passed a motion for SICB [The Sugar Industry Control Board] to intervene in the situation, and for them to look for other experts that will find a solution to the situation at this point."
Ortega told the media that the farmers have agreed that the BSCFA should continue with the bagasse negotiations up to October 15 of this year so that the matter can be resolved before the start of the next sugar cane crop season later this year.
In their capacity as a stakeholder in the sugar industry, the SICB is being asked to intercede and seek ways to bring forth a resolution to the ongoing deadlock between BSI/ASR and the cane farmers.
The farmers' initial proposal of $10 per ton of bagasse was struck down by BSI/ASR, who maintained that the association is being unreasonable, since such a payment would suck up almost 97% of the gross revenue that they (BSI/ASR) receive from selling bagasse to BELCOGEN.
The company had promised to pay cañeros a retroactive sum for the 2013/2014 crop if they are willing to accept the 51-cent offer by August 1, but according to Ortega, the farmers aren't interested because they simply don't think that they will be compensated fairly.
"From the mere fact that the farmers didn't accept the 51 cents, then that means that we are not accepting their deadline. I think that it is a total disrespect for them to come and say we will give you a deadline until August 1 if you accept this, then we want to have a clarification with regards to who is the owner of the product.
"I believe that is the reason why we are in negotiations, and we should finalize our situation first, in which we have been asking them [BSI/ASR] for a payment for our bagasse from last year when we started our proposal. At the magnitude of the matter, I think we need to be very clear, frank and respectful to each other so that we can end up with a win-win situation for both of us," Ortega said.
Ortega mentioned that farmers know that they can get more than just 51 cents per ton of bagasse, and they want to be assured that they will receive a fair payment for their product at the end of the day.