Belize Newspapers Online Amandala
Amandala Newspaper
"Belize's Leading Newspaper"
"Peeping Tom" sentenced to 6 months
BELIZE CITY–A resident of the Mile 8 community on the George Price Highway who was charged with committing a mischievous act after he was caught peeping into the bedroom of a 13-year-old girl was sentenced to 6 months in prison when his trial concluded in the courtroom of Chief Magistrate Ann Marie Smith this morning.
After the court prosecutor indicated that he was closing the case for the prosecution, Smith told the accused, Angel Dorado, 34, an unemployed man, that he had one out of three options. He could remain silent, or he could give an unsworn statement from the dock where he stood, or finally, he could go across to the witness stand and make a sworn statement and be subject to cross examination.
Dorado decided that he would remain silent.
Smith told him that since he did not want to put up a defense, the only evidence before the court was that of the prosecution. She therefore found him guilty of committing a mischievous act.
The Chief Magistrate asked Dorado if he would like to say something for her to take into consideration before she passed sentence on him. Dorado, again, decided that he would remain silent.
His face, however, registered an obvious shock when Smith imposed the 6-month sentence upon him.
Smith ordered Dorado to apologize to the 13-year-old girl before he was escorted by police out of the courtroom to the court's holding cell.
During the trial, four witnesses testified: the 13-year-old girl, her mother, her aunt and the arresting police officer.
The girl, a second form student, testified that around 5:45 a.m. on the morning of the incident, she stepped out of her bathroom and went into her room with only a towel wrapped around her.
The girl testified that when she entered her room, she saw Dorado, who is known to her as "John C," peeping at her. She got scared and screamed out for help, and her aunt, an 18-year-old, went to her room to see what was wrong.
Her mother also heard her scream and when she ran outside of the house, she came face-to-face with Dorado. The girl's mother asked him "what the hell" he was doing in her yard peeping at her daughter.
The girl's mother testified that Dorado ran into another neighbor's yard and she went to the Hattieville Police Station and made a report about the incident.
Dorado, in questioning the girl's mother and aunt, suggested to them that they had fabricated the entire story, because they had a grievance against him over the pulling of mangoes from off his property.
Dorado also indicated to the court that he was only passing through the yard and that he was not peeping at the girl.
According to the girl's mother, ever since Dorado went to live in the community, he has been terrorizing people, and she felt that she had to take a stand in order to prevent him from exploiting any of her children.

Plues Street resident remanded for shooting in San Pedro
August 29, 2014
Teenager facing murder charge in Cayo and attempted murder charge in Belize City
August 29, 2014
Belizean caught with 6.5 kilos of cocaine in Costa Rica
August 29, 2014
Nephew charged for burning down aunt's house
August 29, 2014
I do not use drugs nor do I condone the use or selling of it. But Law
CONCACAF swoops in to straighten out a reeling FFB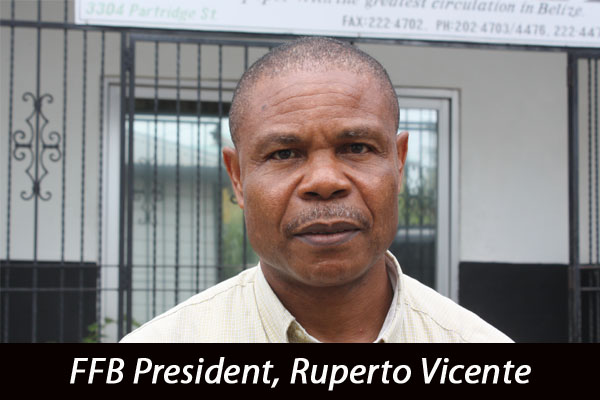 BELMOPAN–The Football Federation of Belize (FFB) is on the road to recovery – at least that is the indication that embattled FFB President Ruperto Vicente has asserted, after several months of internal flare ups within his executive, which reportedly resulted from allegations of micromanagement and financial mismanagement on his part, forced two successive marathon meetings in which local football executives first reconciled their differences before they sat with CONCACAF representatives, who were called in to adjudicate the dire situation concerning the current welfare of football in the country.
Insiders say the beleaguered Federation has been at odds on important football-related issues for over a year
After being kept under wraps for nearly a year due to the fear that the local football community, many of whom are sincerely upset by the recent disqualification of Belize's Belmopan Bandits from the ongoing Champions League tournament because of a substandard local football pitch, will become even more downhearted by the news, the discord that had been brewing within the FFB management aroused the direct intercession of FIFA and CONCACAF, the international football governing bodies, who stepped in and sent two representatives to the country yesterday to quell the undercurrent of discontent which had been threatening to destabilize the foundation of the fairly new FFB executive, who, like the current UDP administration, was swept into office on a wave of reform two years ago.
This past Monday night, President Vicente, the man now at the center of the fiasco, who had been bestowed with the reigns in hopes of moving past the clouded era of former FFB President, Dr. Bertie Chimilio, emerged from a 3- hour, closed-door session with the entire General FFB Congress, including league delegates from across the country, and told the media that the internal grievances of the Federation had been "aired out" after every adversarial issue was placed on the proverbial table and all the members of the Congress had their say.
With a buoyant look on his face, he said, "We had differences and we had difficulties, so those differences were discussed at the meeting. It was a very productive meeting. All the issues were aired out and, as mature individuals, we were able to say what we had to say, explain what we had to explain, and so we made a pledge to the members of the assembly and the delegates that we will embark on continuing the work for football development in Belize, and that's where we're at now."
The crux of the FFB meeting was incessant internal strife that had reportedly built up from criticism of Vicente's management style and policy decisions, which ultimately led to a divided FFB executive, with members Sergio Chuc, Marlon Kuylen and Cruz Gamez pitted against President Ruperto Vicente and General Secretary Michael Blease.
When questioned about the matter, he responded by saying, "I am the President of the Federation. Every bad decision has consequence. I have the responsibility for it, and I don't shy away from responsibilities – [As] the President of the FFB, everything that happens here, even if a football player commits an error, the President must take the heat for it, and I am taking the heat for those decisions that were made, and certainly that will continue to happen because decisions will be made that will certainly not fall right in the eyes of others."
FFB General Secretary Michael Blease and Senior FFB Vice President Sergio Chuc factor into the debacle because allegations were rampant that they were both suspended from their posts just last week, but in the end, a lot of making up was apparently done, and we understand that they all made a renewed pledge to work in unity for the betterment of Belizean football.
Reliable sources indicated that Chuc was scheduled to be suspended for unknown reasons after a closed-door meeting in Belmopan which was called recently by Vicente and the Federation's chairpersons; however, that suspension was retracted because the Congress members intervened and declared that it was improperly done.
In the case of Blease, who some football observers have pinpointed as being inefficient in the handling of his duties and have thus called for his removal, we understand that he had written FIFA and complained that he was unceremoniously suspended by Vicente.
That, we are told, is one of the reasons why CONCACAF President Jeffery Webb reacted by sending two Guatemalans, Marco Leal, the Legal Adviser for CONCACAF, and Raphael Salguero, a FIFA representative and executive member of CONCACAF who specializes in statute writing, to meet with the FFB Congress yesterday morning at 7:00 at the FFB Headquarters in Belmopan, in order to help resolve the burning issues within the administration of the well-loved sport.
At the end of that meeting, Vicente, who initially mentioned that he felt compelled to call in CONCACAF to advise them of the kinks, said, "All the things that were affecting us were aired out at this morning's meeting, and so they [the FIFA representatives] were able to come up with pointers on how we move forward. They have given us a calendar of activities that we are going to be working on as executives and as a Federation, in terms of moving football forward in this country."
He also outlined FIFA's plan of action to completely restructure the football league in Belize.
"We have been given recommendation to first of all hold a retreat for the executive members, and then come back for a general meeting to look at what proposal we'll be presenting to the CONCACAF officials who will be here as well. This is important to bring them in because, as you know, we are a growing Federation and we are still learning, and for this reason, I have invited FIFA to come in and assist us with our strategic plan, and so that is going to be happening in October. They will assist us with our financial positions and put in place a mechanism on how to better manage our finances, and how to better manage the Federation. This is not something unique to Belize; there are many other countries that have gone through, and are going through this sort of phase, and so it was easy for them [FIFA] to recognize where our problem is, and what we can do to rectify them. We realize that we have this weakness, and we don't have the finance to deal with it, and so the best thing we could have done was to invite FIFA to come in and do that work for us," he explained.
While critics allege that Vicente is known for backpedalling on his assurances to change his management style before, he maintained that the problem boiled down to "communication, as well as adhering to the statutes."
According to Vicente, he also spoke to the officials about the issue of the inadequate FFB football pitch which forced the PLB Champions, Belmopan Bandits, to sit out yet another Champions League tournament, after they were yanked from the competition for the second year in a row because the football pitch didn't meet FIFA's standards.
He said, "I brought it up with the competition manager for CONCACAF, and certainly CONCACAF does, whichever way, it does make its decision and it is their decision. But understand as well, that in this part of the world, we are playing against teams from Mexico, and those teams from Mexico will not put players on pitches that are not ready to play on, because they invest a lot in their players. We had a Mexican coach here that looked at our pitch, walked on it, and so they got that information that our pitch would not have been ready and was not safe to play on, so they probably got to the television company and said look, we will not play on the Belize field because it will endanger our players, and so we believe that's the reason the decision was made, because, as we know, the Champions League is all about television, and it is television that controls Champions League."
Two weeks ago, at an FFB press conference, Vicente had initially mentioned that the brown spots on the field were the main reason for Belize's ineligibility; however, it turns out that it was more than just brown spots.
At that conference, Vicente also fielded questions from members of the local football community who were concerned about the status of the vacant executive seat that FFB Vice President, Rawell Pelayo, still holds.
Pelayo was the man who previously led the National Team Committee, before being nabbed and held by US D.E.A. authorities last year at the international airport in Miami, Florida when he traveled there as part of the official FFB team representing Belize at its first ever Gold Cup appearance.
We were informed that a motion was made to replace Pelayo in March of this year at the FFB's Congress, but that was resisted by Orange Walk chairman, Raphael Avila, and Pelayo was given another 6 months to return to occupy his seat.
That grace period expires sometime next month, but with Pelayo still in a New York detention center, and no indication that he will be returning home any time soon, the question came back up again yesterday morning in front of the FIFA representatives, who have promised to review the FFB statutes before making a recommendation on how the national body should proceed.
We also understand that the local Premier League of Belize (PLB) football clubs, with the exception of the Belmopan Bandits, had recently written to President Vicente making certain demands of the Federation that he must fulfill before they play in the upcoming semi-pro football season.
Quite remarkably, our sources said that nothing came up at either meetings about Minister of National Security, Hon. John Saldivar, reportedly leading the National Team Committee, which is one of the matters, we were told, the General Secretary complained about in his letter last week to FIFA.
According to our information, FIFA's guidelines strictly prohibit the direct involvement of government officials in football affairs.

Belize Jaguars prepare for Nations Cup
August 29, 2014
Belize's Daland Jones wins Gold at Masters Athletics Championship in Cost Rica
August 29, 2014
Lionman Triathlon 2014 this Sunday, 6:30 a.m. at Sand Lighters Promenade
August 29, 2014
Tut Bay FC wins CYDP Peace Cup 2014
August 26, 2014
I do not use drugs nor do I condone the use or selling of it. But Law
PUP suspeds Arthur Saldivar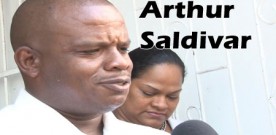 BELIZE CITY–The Opposition People's United Party (PUP) held a National Executive meeting this morning at its Independence Hall headquarters at which it decided to suspend the Belize Rural North constituency standard bearer, attorney Arthur Saldivar, who was recently catapulted into the national spotlight with an allegation that he commandeered $900,000 from a former client, Melonie Coye.
There is, however, no claim filed at the Supreme Court Registry, and neither has Saldivar been served with any notice of a civil action, for which he would have been mandated to provide a defense to the court before a trial date is set.
Attorney Eamon Courtenay, S.C., who is representing Melonie Coye, had said that Saldivar would have a chance to explain the allegation against him to a Supreme Court judge. Presently, the Supreme Court is on vacation until its next session, which starts in October.
The PUP National Executive announced that a final decision on Arthur Saldivar will be made at a later date
While the issue may be litigated in the future, the political fallout for Saldivar appears to be immense, because the PUP has moved against him due to the seriousness of the allegation.
Arthur Saldivar, the man whose political fate now appears to hang in a delicate balance, walked past reporters in front of the party's Queen Street headquarters, snuffed out an expensive cigar and walked upstairs to where the PUP executive meeting was being held.
He quickly came back downstairs, however, and when asked to make a statement, Saldivar said, "Well, the outcome is of no importance at this time. Just suffice it to say that the people of Rural North have a champion to fight on their behalf."
Then borrowing a line from the late Rt. Hon. George C. Price, Saldivar added, "When it's time to talk, we'll talk," and with his trademark grin, he slipped out of Independence Hall in the company of his campaign manager, Linsford Castillo.
Shortly after Saldivar made his hasty departure, PUP Leader Francis Fonseca emerged at the main entrance where reporters were gathered and he made a statement, saying: "We just interrupted our meeting of the National Executive to offer a brief statement, because I was made to understand that you all have been waiting out here."
"I think you have been made aware of the fact that at its meeting of the National Executive today the People's United Party has discussed the issue of Belize Rural North and the candidacy of Mr. Arthur Saldivar, our standard bearer in that area," Fonseca prefaced his remarks to reporters.
"We had a very robust discussion and at the end of that discussion the Party took the decision that Mr. Arthur Saldivar would be suspended as a candidate for the People's United Party in Belize Rural North from all party activities, pending the outcome of an ongoing investigation that the party is carrying out, into the very serious allegation that has been made in respect of certain monies that he took [from a client] and has not returned," Fonseca explained. "The media is aware of that allegation," he added.
Fonseca said that investigation has been ongoing and they expect that investigation to be concluded and a report to be delivered to himself and the National Executive by September 12.
"The Party will then convene a meeting of the National Executive on September 17, at which time, a final decision will be made on this matter," Fonseca told reporters.
When asked if he is concerned that there are other complaints pending before the General Legal Council about Mr. Saldivar's conduct as an attorney, Fonseca replied, "We are concerned and the committee will be looking at some of those. We understand that some complaints have been filed, while others have been made in the public, but have not actually been filed."
Fonseca said that the PUP is not prepared to make the determination that Mr. Saldivar is a liability.
"We are going to await the outcome of the investigation and the entire National Executive of the Party will make a determination and a final decision," Fonseca said.
Fonseca said that Saldivar has made representation at the meeting and he will be interviewed as a part of that investigation, as well as other witnesses on his behalf.
"So there is due process. We understand that the Belizean people expect that we act decisively when matters like this come up," Fonseca explained.
The PUP's decision to suspend Saldivar will most likely create a vacuum in Belize Rural North for the duration of his suspension. Party insiders, however, are viewing the suspension as an important test for Party Leader Francis Fonseca.
While Saldivar backed out from giving Amandala an interview on Wednesday, there was no mincing of words from his campaign manager Castillo.
Castillo told Amandala today, "I strongly believe that such investigation that they (the PUP) are carrying out is just delaying the inevitable."
He went on to state, "Speaking as the campaign manager of Arthur Saldivar, I believe that very powerful individuals within the party are bent on removing my candidate as the standard bearer for Belize Rural North."
"This has nothing to do with the Melonie Coye money," Castillo said.
"The Melonie Coye situation is simply a red herring that is being tossed in front of the Belizean people along with other baseless allegations to paint a picture of Arthur," Castillo declared. He then noted, "there was no investigation before the decision to suspend Arthur."
"I can tell you what the decision of that investigating committee will be: They are coming for the head of Arthur," Castillo said.
GOB signs infrastructure contracts for flood mitigation
August 29, 2014
Plues Street resident remanded for shooting in San Pedro
August 29, 2014
Changes in certain US visa and consular fees announced
August 29, 2014
Missing cricket player, 27, found decomposing
August 26, 2014
I do not use drugs nor do I condone the use or selling of it. But Law
55,000-ton bomb dropped on cañeros!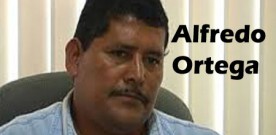 ORANGE WALK–On Tuesday of this week, Tate and Lyle Sugars, a member of the American Sugar Refineries (ASR) group, dropped a bombshell on local cañeros when they announced, in a letter to the farmers, that there might be a drastic cut to the Belize sugar quota that sells under the Fair-Trade logo, and thus, the 18 directors of the Belize Sugar Cane Farmers' Association (BSCFA) met this afternoon in Orange Walk to discuss the crippling issue.
Sugar quota slashed from 65,000 to 10,000 tons!
Apart from market forecasts which are cited in Tate and Lyle's letter, which was sent from their headquarters in London, the BSCFA was informed that the purchase of sugar for the 2014/2015 crop would be 10,000 tons, 55 thousand tons less than last year, while the premium price, which is US$60, will be paid after the product has been sold to consumers as Fair-Trade sugar.
While things might be looking even worse for the BSCFA, who are still at odds with Belize Sugar Industries (BSI)/ASR over the bagasse issue, Alfredo Ortega, the spokesperson for BSCFA's Committee of Management, which has been unpleasantly surprised by the revelation, is convinced that the reason for the decrease has nothing to do with market vulnerability.
After the meeting today, Ortega said: "It is something that will harm us and we will be sending a letter to them. We will be analyzing this situation very closely, and we want to know if it is really the market out there that is causing this situation, or if it is another thing, so we will be analyzing this situation and looking forward to sending a letter to FLO-CERT [the inspection and certification body for label Fair-Trade], and Tate and Lyle again to see what is the market situation with this, because the letter that they sent is not so clear. They are saying that the market situation is the problem, but it takes us into a bad situation right now because it just came as a surprise."
According to Ortega, this position by the company will be disastrous for both the association and the industry, especially in terms of losses when compared to last year.
"It is a huge loss. Last year we got $6.9 million BZD, and it was only 60,000 tons that were sold. This year what they had proposed to buy from us was 65,000, 60 to the EU, and 5,000 to the US. So, that is what we will be getting this year, but for this upcoming crop, the 2014-2015 crop, they are saying that they will only be buying a minimum of 10,000 [tons]. So, it is a very huge reduction from $6.9 to almost $1.2 million; the difference is very huge and it will definitely create problems within the organization", he declared.
The association considered the letter as dismal, and while it leaves a window of opportunity that more than 10,000 tons of sugar may be bought if the sale projections improve, the farmers remain skeptical.
"I think the window of opportunity is very limited because they are the one that pays; they are the ones that make the decisions, so what we have to do is really to dialogue and negotiate and let them know what negative impact this will have in our farmers and also to the industry of Belize", Ortega told reporters.
He also outlined how the severe blow will have a rippling effect on the association, the cane farmers and the industry itself.
"That money is used to comply with the FLOCERT standards because they have some heavy standards that we have to comply with, [such as] the use of agro chemicals, the environment, child labor and administration and, many of these funds are used in granting help to the farmers in regards to agro chemicals and other programs. Also, we have social programs in which we have been helping the education sector, infrastructure and healthcare, so with this reduction, many of the programs that we were contemplating before, we won't be able to do, and that [also] means that many of our staff will have to be cut because of this situation", explained Ortega.
Ortega told the media that Tate & Lyle's grim letter notified BSCFA that the payment plan for sugar cane will change.
BSCFA currently receives payment 30 days after the sugar arrives in London, but as of 2015, the payment will not be made until all the sugar has been sold.
The reduction in the sugar quota is one thing, but the question is, can farmers and, by extension, the country, afford this kind of change in the schedule of payment for sugar?
According to the letter, the farmers will not be paid the premium price of US$60 per ton of sugar until the sales have been made, a policy which is effective immediately.
The reduction in sugar quota, it said, is as a result of market vulnerability. It was signed by Simmon Gibbons, Senior Vice President of International Operations, who reportedly said that the company will endeavor to increase the volume, should sales of Fair-trade prove to be higher than previous forecasts.
The drastic changes will certainly have a negative impact on both the cañeros and the entire nation, since the reduction in income from sugar is estimated to be from around BZ$6.9M to about BZ$1.2M per annum.
The Belize Sugar Cane Farmers' Association believes that the projected reduction in quota might be some sort of punishment to cañeros because of the bagasse proposal that has not been accepted by the farmers.
As a result, Ortega mentioned that they will be seeking the advice of other countries that are also FLOCERT-certified to see how best they can deal with the situation and hopefully find a way out of it after careful analysis.
Export earnings plunge $55 mil despite 3.7% GDP growth, Jan to July 2014
August 29, 2014
Garifuna language barred at Caribbean bank?
August 29, 2014
Belizean caught with 6.5 kilos of cocaine in Costa Rica
August 29, 2014
Nephew charged for burning down aunt's house
August 29, 2014
I do not use drugs nor do I condone the use or selling of it. But Law
Dr. Aranda writes FirstCaribbean, Barbados
Managing Director
Mr. Daniel Farmar
FirstCaribbean Bank Ltd.
St. Michael, Barbados
Sir:
I write you, sir, primarily as a Garifuna person, but also at the request of the Garifuna community of Belize as well as the entire Garifuna Diaspora throughout Central America and the United States of America concerning the harassment and move to dismiss at least one senior officer of the CIBC FirstCaribbean International Bank, Dangriga Branch, Belize, Miss Uwahnie Martinez.
The alleged violation by this senior officer is her answering greetings in Garifuna from Garifuna customers who address her in Garifuna within the bank.
The FirstCaribbean Bank claims that its official language is English, hence only English is to be spoken on the premises of the bank.
First of all, FirstCaribbean Bank cannot behave this way because over and beyond the fact that the lingua franca of the entire country of Belize is not English but Creole, the major communities where the bank has its branches freely speak in Creole, or Garifuna or Spanish.
In our case as Garifuna people, our ancestors fought and maintained our culture, i.e. the language "Garifuna", and our identity, never surrendering to the enslaving Europeans.
However, the Bank has given our struggle another twist by violating our Belizean Constitution, and consequently the laws of Belize, which uphold and protect against any form of discrimination and its effects.
We have invited the FirstCaribbean Bank Manager in Belize, Mr. Glen Smith, to dialogue for a peaceful resolution of the issue, but he refuses to meet with us.
We hope to hear from you.
Respectfully yours,
Dr. Theodore Aranda
Neri Briceño writes First Caribbean Bank
August 29, 2014
Begging the Transport Department …
August 29, 2014
Guns don't fight climate change … trees do!
August 29, 2014
Jack Linker's letter has "factual errors"
August 26, 2014
I do not use drugs nor do I condone the use or selling of it. But Law
From the Publisher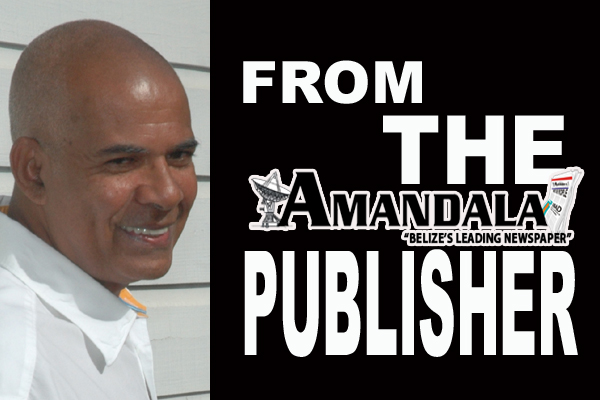 To be young, street, and black in Belize City today is to be treated as a criminal or potential criminal, every day and every night, by groups of police officers driving around in pickup trucks with United States flags painted on them.
If there is a major crime committed, such as murder or armed robbery, young, street, and black from certain neighborhoods can be arbitrarily grabbed, provoked, insulted, beaten, confined and held for 72 hours without any charge and without any real evidence.
In the absence of a major crime, when things are cool, the roving cops can just stop you in the middle of the street, spread-eagle you, search you, and insult you, and the excuse for this is most often the weed law. Recently, the authorities suddenly decided, after decades and decades of ignoring the bell and light statutes for bicycling, that you must have one of each of these on your poor youth's transport. More stop, more abuse, more insult, more persecution …
It's bad on the Southside. There are Southside-like areas on the Northside, such as Majestic Alley, Pink Jungle, and Kelly Street, but there are many more such areas on the Southside itself. The police, or more roughneck units linked to the police, can kick down your door in the middle of the night, terrifying you and reducing your manhood in front of your womenfolk – your woman, your mother, your grandmother. All your womenfolk, even your daughters, sometimes become exposed and humiliated, and this represents a direct attack on your manhood. Your only "mistake" may be to live in a 'hood designated as "crime-ridden" by big people. Not everyone in a "crime-ridden" area is a criminal. Straight.
The thing is, such treatment is going to make you angry, sometimes righteously so, but the power of the law, which is a power derived from the government/state as a legally organized institution, is real, so real that it is advisable that you do not retaliate. This can become your life: daily provocation from the authorities and no effective means of response or retaliation. You cannot afford an attorney, because, by the very definition of your status, you do not have the money to pay such a legal expert.
This week one of our workers came to me and he was on the verge of losing control. We looked at his situation, and then I told him a story. Many years ago, I had been where he was, and I had a good idea of how he was feeling.
I was teaching the impressive 3A class at Wesley College one day in early 1972, and a rookie policeman came to my ground floor classroom. Apparently one of our students, Elbert Miller, Jr., had mocked him in some way in some public place over the weekend, and he wanted access to this student. But, he was just a rookie cop, and it seemed to me that he was going about this the wrong way. I was the president of UBAD at this time, I had been arrested several times on all kinds of charges, tried in Supreme Court on two different occasions, and I was probably on bail at the time for other charges. I didn't cooperate with the rookie policeman, and the students, of course, all supported their fellow student.
Apparently, after the policeman went off, he began to nurse a grudge against that student, and it was such a bad grudge that, some time afterwards, he "chanced" Elbert's younger brother, Trenton Miller, clubbing him in the head so brutally he almost killed Trenton, who had to be hospitalized. I don't remember if that clubbing occurred before or after the incident involving myself which I'm about to relate.
This is still 1972, which was the most confrontational year between the PUP government and the UBAD organization. One night I was at our family home at #1 West Canal Street. (My parents and four of my younger siblings had moved to Belmopan in 1970.) My younger brother, Michael (now deceased), who lived there with me, had gone to a movie at the Eden Theater (North Front Street) along with Michael Finnegan and a young footballer, Sammy Gentle, who was also a student in 3A at Wesley College.
I was probably asleep when Sammy came by to tell me that after the movie a group of them took the short cut (east to west) across the flow of traffic on Swing Bridge, instead of going all the way around by the Central Market and then crossing by Augusto Quan. I suppose they were breaking some kind of law, but everybody did it late at night. What this policeman did that night, and he was the same policeman from the Wesley College 3A incident, was pick my brother out from the crowd and take him to the Central Police Station on Queen Street. I became very angry.
Well, walking from canalside up Regent Street West across Swing Bridge going to the station (I guess Sammy was with me), I was losing control of my emotions. When I reached the vicinity of the Angelus Press, I met Finnegan and my younger brother. Some other, more experienced policeman must have seen the absurdity of the situation and decided to release Michael.
But, I was so angry I was out of control. I continued on to the station, where there was a group of policemen standing at the main entrance to their compound, and began to curse and threaten them indiscriminately. They immediately tried to subdue and arrest me, of course, and we began scuffling. They took me upstairs, where I met then Corporal Sam Rhaburn, the officer-in-charge. They slapped all the usual charges on me – indecent words, resisting arrest, assaulting police officers, and so on.
I wanted to make a point to our worker. When you're in a problem with the law, you have to do your very best to be restrained, because the law is so very, very powerful. Even though I was a supposedly experienced revolutionary, I lost control of myself under the pressure the law was bringing. When you do that, things only become worse.
Our youth in this city are being subjected to cruel physical and psychological pressures. It is clear to me that this constitutes a sociological emergency. But our institutions of governance are not treating it as such. The pressure which caused me to snap back then was nothing compared to what these youth are experiencing. This is a volatile situation.

From the Publisher
August 26, 2014
From the Publisher
August 22, 2014
From the Publisher
August 19, 2014
From the Publisher
August 15, 2014
I do not use drugs nor do I condone the use or selling of it. But Law
CRFM to Give Oral Arguments to Law of the Sea Tribunal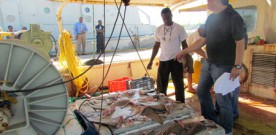 BELIZE CITY–The Caribbean Regional Fisheries Mechanism (CRFM) will on September 5, 2014 give oral arguments to the International Tribunal for the Law of the Sea (ITLOS) in Hamburg, Germany in response to a request for an advisory opinion on Illegal, Unreported and Unregulated (IUU) fishing in African waters.
ITLOS, which is made up of 21 Judges, including two from the Caribbean, namely, Judge Dolliver Nelson (Grenada), and Judge Anthony Amos Lucky (Trinidad and Tobago), is hearing oral submissions from States Parties to the United Nations Convention on the Law of the Sea and International Organisations with an interest in the subject.
Legal Counsel for the CRFM, Professor Pieter Bekker of Dundee University, UK (photo left) will join representatives of nine (9) countries and the SRFC, the European Union (EU), and the International Union for the Conservation of Nature and Natural Resources (IUCN) in presenting oral arguments.
Milton Haughton, Executive Director of the CRFM, noted: "The hearing is as important to the Caribbean as it is to the States that have sought advice, as it could set significant precedents for the way illegal fishing is dealt with in the future, particularly regarding the liability of flag States for IUU fishing conducted by their vessels."
He continued: "IUU fishing is a multi-billion dollar enterprise that inflicts great economic and environmental harm on States that are victims, especially developing countries such as CARICOM countries, with limited capacity for monitoring, control and enforcement of their fisheries laws."
The SRFC is seeking advice in response to four questions:
1) What are the obligations of the flag State in cases where illegal, unreported and unregulated (IUU) fishing activities are conducted within the Exclusive Economic Zone of third party States?
2) To what extent shall the flag State be held liable for IUU fishing activities conducted by vessels sailing under its flag?
3) Where a fishing license is issued to a vessel within the framework of an international agreement with the flag State or with an international agency, shall the State or international agency be held liable for the violation of the fisheries legislation of the coastal State by the vessel in question?
4) What are the rights and obligations of the coastal State in ensuring the sustainable management of shared stocks and stocks of common interest, especially the small pelagic species and tuna?
The Case was initiated on March 28, 2013, when the Sub-Regional Fisheries Commission (SRFC) representing seven African States sought the Tribunal's assistance regarding IUU fishing by vessels registered in foreign States within waters under the national jurisdiction or control of its members and on the High Seas. The SRFC includes Cape Verde, Guinea, Guinea-Bissau, Mauritania, Senegal, Sierra Leone and the Gambia.
The arguments in Case 21 can be viewed via live Web stream through the ITLOS Web site (www.itlos.org).
- press release -

Policy barring Garifuna language is a violation of human rights
August 29, 2014
Belize Fisheries staff to join Caribbean colleagues for training in Australia
August 29, 2014
I do not use drugs nor do I condone the use or selling of it. But Law
Belize Jaguars prepare for Nations Cup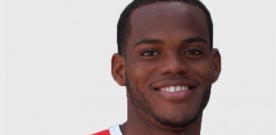 BELMOPAN–While the dust settles concerning the Football Federation of Belize (FFB)'s myriad of internal tangles, the country's Men's National "A" football selection, known as the Belize Jaguars, including international superstriker Deon McCaulay, and newly reinstated veteran Costa Rican coach, Leroy Sherrier-Lewis, is currently in preparation for an appearance in the upcoming Copa Centro Americana, or Nations Cup, the tournament which enabled the Jaguars to qualify for their first ever Gold Cup outing last year.
One of the wrinkles that had been troubling FFB President Ruperto Vicente is the lack of an affordable coach, but after going back and forth with other international coaches, he managed to procure the popular Leroy Sherrier-Lewis, who is certainly no stranger to Belize or to the Federation's historical shortcomings.
Lewis has aborted the league twice in his capacity as national team coach; however, he is now back at the helm, after being given the green light by President Vicente.
After a meeting with FIFA and CONCACAF officials who had come to "clean up" the shortfalls of the Federation yesterday, Vicente, who explained that the FFB basically had to sit and wait until they could have gotten a coach that is "reasonable economically," since most international coaches require between US$10,000 – 15,000 per month, said, "We got a coach from Mexico who came in to work with us, and he was costing like US$2,000 per month, and so when we gave him the job he came and started working; but eventually he got frustrated because he thought that the players wouldn't show up for practice, and so he left. Coach Lewis was here, and he said that he's prepared to work with the national team, and not having anything against him – you know, I've always had the highest of respect for him, and so I immediately said, well, let's go with you. If you are prepared to coach our team once again, I have no difficulty with that; so he took on the job."
Leroy Sherrier-Lewis also has a gig as the coach of the Belmopan Bandits, who has won as champions of the Premier League of Belize (PLB) tournament for the last two seasons under his leadership.
Nevertheless, the national selection's prospects have been known to be overshadowed by constraints such as the realities of lack of resources, lack of money and lack of preparation time; but this time, our "re-imported" superstar footballer, Deon McCaulay, who said that he was excited to play again for his country and people, told the media that, with the international experience he has gained so far, he is ready to go out there and put everything on the line in an effort to make it to the Gold Cup tournament once more.
The Atlanta Silverbacks, the team with whom McCaulay currently plays in the United States, recently bid him well and highlighted his feat of scoring a combined total of 11 goals along with Junior Burgos during the NASL season and the Open Cup which was held this year on their official website.
Evan Mariano, who had also been playing for a US-based football club, is also in the country along with well known goalkeeper, Shane Orio, who explained to our colleagues at Plus TV that he sat out last year's tournament because the team with which he was playing in Honduras opted not to provide him with a temporary release to represent his country at the tournament.
Orio will be playing alongside Woodrow West, who rose to stardom during the 2013 tournament in Costa Rica, and then in the Gold Cup qualifiers thereafter, as he took charge of the team on several occasions, while making miraculous saves, to the disenchantment of our opponents.
Due to the challenges associated with the football pitch at the FFB Stadium, the team is currently practicing at the Isidoro Beaton Stadium, also in Belmopan, with their new head coach.
The Central American (Nation's) Cup will be played at four different venues in the United States, starting from September 3 and concluding on September 13, 2014.
CONCACAF swoops in to straighten out a reeling FFB
August 29, 2014
Belize's Daland Jones wins Gold at Masters Athletics Championship in Cost Rica
August 29, 2014
Lionman Triathlon 2014 this Sunday, 6:30 a.m. at Sand Lighters Promenade
August 29, 2014
Tut Bay FC wins CYDP Peace Cup 2014
August 26, 2014
I do not use drugs nor do I condone the use or selling of it. But Law