Belize Newspapers Online Amandala
Amandala Newspaper
"Belize's Leading Newspaper"
BNE and Maranco case goes to Caribbean Court of Justice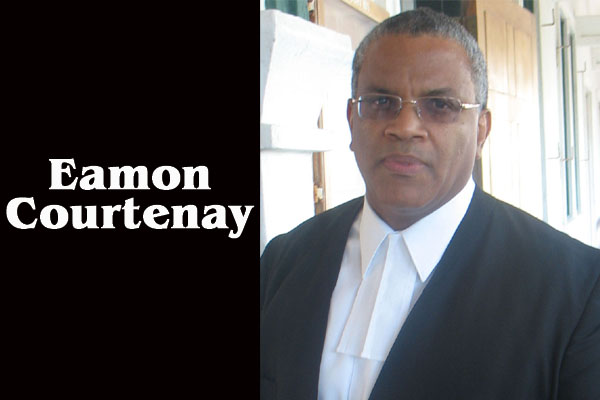 BELIZE CITY–The Caribbean Court of Justice (CCJ) will hear the final appeal in a contract dispute between Belize Natural Energy and Maranco, which had been hired to work for Belize Natural Energy in the early stages of its operation here, particularly in relation to the onshore drilling contracts of May 1, 2008.
Court documents indicate that a dispute arose under the contracts between the parties concerning the amount of demobilization fees, the daily rates and damages payable to Maranco for alleged breaches of the contracts by Belize Natural Energy.
The Supreme Court decision made by Justice Oswell Legall in August 2011 indicates that the substantive award of US$1,207,800 has been settled but since that ruling, the parties have been at loggerheads over the settlement of court costs, amounting to US$211,069.57.
Eamon Courtney, SC, attorney for Maranco, said that the Court of Appeal upheld the Legall ruling, and the dispute over the settlement of costs now goes for appeal at the CCJ. The CCJ plans to hold case management sessions tomorrow, Tuesday, October 28, 2014, 9:00 a.m. Belize time, via video conference.
BNE has applied to the court for it to remit or set aside the award for costs by the arbitrators.
PAC Chairman wants AG to investigate Petrocaribe loan
October 21, 2014
Prime Minister Dean Barrow signs $67.5 million agreement with European Union
October 17, 2014
Nearly 700 cases of dengue nationally
October 10, 2014
2 shot; 1 dead
October 07, 2014
I do not use drugs nor do I condone the use or selling of it. But Law
Crips vs Crips!
BELIZE CITY–Roger Anthony, the reputed leader of the Mayflower Street-based Ghost Town Crips, who renounced his gang leadership two weeks ago, is in police custody pending charges, the police press office reported today.
According to a police press release dated today, Monday, October 27, on Sunday, October 26, Shelly Meighan, 39, reported that around 10:10 p.m., "whilst inside her house on Banak Street, she noticed a male person standing outside her house and shortly after, she heard what sounded like gunshots and realized her house was shot at, causing damage to a glass louver."
The police report said that four expended shells were retrieved from the scene. "No one was injured," the report said.
"Quick police response in the area led to the detention of Roger Anthony, 37, and a .9mm pistol which was seized. Anthony is in police custody pending charges," said the report.
Anthony is expected to be taken to the Belize City Magistrate's Court tomorrow, Tuesday, to be arraigned on the charges.

Roger Anthony, 37, detained pending charges for shooting incident

The police press release, however, did not state what charges would be brought against Anthony.
And what has led to this latest flare-up between the Meighans and Anthony?
Amandala tried to get answers tonight from Shelly Meighan, the mother of Tyrone, Shaquile and Ellis Meighan, Junior, who are said to be members of the Ghost Town Crips.
According to Meighan, her sons don't "hang out" on Mayflower Street: "Ellis stays at home," she said.
"Last night, I heard like someone was walking in the yard, and when I peeped out, I saw Roger in my yard," said Meighan.
"I cannot give the media an interview, because really, I don't know what cause Roger to want to kill my sons," Meighan said tonight, as she eyed the two policemen on bicycles approaching from the direction of the nearby gas station.
"This is the second time Roger shot at our house," she went on to note.
"This is one time I have to thank the police. They were not too far away when they heard the shots and they caught Roger trying to run away. He might have twisted or broken his ankle," Meighan said.
Anthony, for almost two decades, has been linked to the leadership of the Ghost Town Crips, one of the most feared gangs in southside Belize City.
On Tuesday, October 14, however, Roger Anthony appeared alongside the new commander of the Gang Suppression Unit, Inspector Mark Flowers, reportedly to renounce the gangster life style he has been living. (See related story here: Ghost Town boss, Roger Anthony, steps away from gang life)
Before Anthony made his dramatic announcement, Inspector Flowers declared: "We've been able to, at this point in time, have some of the leading figures agreeing to not only desist from these criminal activities but to denounce these activities. And I am certainly pleased that Roger Anthony, who is here and who will speak for himself, [will offer] his encouragement to other young folks to also desist and to denounce these sorts of activities."
Anthony, appearing calm at the police press conference, had told reporters, "I am here today to say that the gang life that I've been in for the past 26 years, that isn't a life and I think it's time for us, we as leaders to make a change and to stand up and help the police, especially the Gang Suppression Unit, to stand strong and work with each leaders of the community so that we can make a change. It's only us that can make a change, and we along with them can make a change. That's what I am trying to do and that's what I am going to do and I am going to renounce, that I ain't no leader in no gang. I am just leader of a work group with Mr. Cisco and that's what I am going to carry on after this.
"I just hope that the other gang leaders picked up that what I am doing and continue, and we go live in a peaceful country without violence."
Anthony was asked, "But how do you walk away from all of this knowing that your neighborhood has been accused of many terrible things?"
"Yes, but you can't look at the past; we have to look at the future. That's what I am doing. I ain't looking back at the past," Anthony replied.
But if today's police report is accurate, then last night, Sunday, Anthony may have forgotten those unprecedented statements he made at the police press conference on Tuesday, October 14.
Minor traffic violation leads to alleged police beating and four charges
October 28, 2014
Exploding boiler kills Quality Poultry employee
October 28, 2014
Hanna hits Honduras, will drench Belize
October 28, 2014
Guat passport offensive
October 24, 2014
I do not use drugs nor do I condone the use or selling of it. But Law
Bus line installs onboard Wi-Fi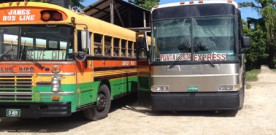 PUNTA GORDA–James Bus Line, which is known for its daily runs to western and southern Belize, has launched an initiative that will now enable its customers to access Wi-Fi services while travelling on its express runs.
The owner of James Bus Line, James Williams, told us today that at this point, the service is undergoing a testing stage to determine how it will work and what else will be needed to make it possible, and that once it is up and running, it will be there for as long as the bus line exists.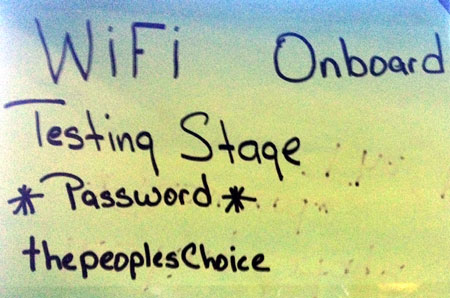 It comes as a welcomed idea for university students who utilize the bus line to travel to and from school in Belmopan, since we understand that they plan to use the Wi-Fi to occupy their time or catch up with assignments while on their way to school.
Wi-Fi, also spelled "Wifi" or "WiFi", is a local area wireless technology that allows an electronic device to exchange data or connect to the internet using 2.4 GHz UHF (Ultra High Frequency) and 5 GHz SHF (Super High Frequency) radio waves.
Many devices use Wi-Fi, such as personal computers, videogame consoles, smart phones, some digital cameras, tablet computers and digital audio players which have the ability to connect to a network resource such as the Internet via a wireless network access point.
EU ministers to formally lift Belize high seas fishing sanctions
October 24, 2014
Dr. Ronald Hyde, nephrologist, addresses Kidney Symposium
October 24, 2014
Caribbean Statistics Day 2014
October 21, 2014
Ghost Town boss, Roger Anthony, steps away from gang life
October 21, 2014
I do not use drugs nor do I condone the use or selling of it. But Law
Minor traffic violation leads to alleged police beating and four charges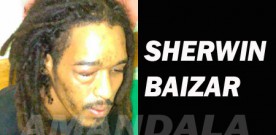 BELIZE CITY–A resident of the West Lake community at Mile 8 on the George Price Highway was arraigned in the Magistrate's Court late this evening on four charges stemming from a minor traffic violation. Typically, someone accused of such a violation is promptly released on station bail and he or she is given a date on which to appear in court.
That, however, was not the case with Sherwin Baizar, who had been in police lockdown since Friday, October 24, when the incident occurred. Baizar was brought to court this morning in the police mobile unit transporting prisoners.
Baizar, a 28-year-old musician, pleaded not guilty to "causing a bicycle to proceed on a one-way street; resisting lawful arrest; assaulting a police officer; and use of insulting words," when Magistrate Hettie Mae Stewart arraigned him on the charges.
Since the prosecutor did not object to bail, Stewart offered Baizar bail in the sum of $1,500 plus one surety in the same amount.
The condition of his bail is that he is not to make any contact with the complainant in the case, which was adjourned to December 17.
A family member of Baizar told Amandala that Baizar had been riding his bicycle on Collet Canal Street, near Kick Down Fence bridge on Dean Street, when the police stopped him.
According to the family member, Baizar was severely beaten by police while he was in their custody.
And to prove the severity of the beating that Baizar suffered at the hands of the police, the family member used a cellphone to photograph him while he was still in their custody.
Crips vs Crips!
October 28, 2014
Exploding boiler kills Quality Poultry employee
October 28, 2014
Hanna hits Honduras, will drench Belize
October 28, 2014
Guat passport offensive
October 24, 2014
I do not use drugs nor do I condone the use or selling of it. But Law
Jadas win male, female softball finals games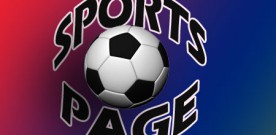 ORANGE WALK–The Orange Walk softball league championship games were held yesterday, October 26, 2014 at the People's Stadium in Orange Walk, and Team Jadas of Orange Walk won both the male and female championships in grand fashion.
In the male championship game, Jadas defeated Mad Bull Productions 3 -2. The winning pitcher in that game was Jeremias Chi.
In the female game, Carmelita Caribbean Queen faced off against Jadas, and in the end, Jadas won 16 – 4 in the fourth inning after the Mercy Rule was applied. The winning pitcher was Marina Gongora.
Game three of the finals series featuring Jadas and Carmelita Caribbean Queen, who won game 1 (9 -5), comes up on Sunday, November 2, 2014 at People's Stadium at 2:00 p.m.
San Narciso Red Orchids and San Narciso Golden Strikers fought for third place, and the Red Orchids won by default over the Golden Strikers.
Team and individual trophies were awarded to the male champions and the third place winners.

Southern region volleyball semi-final competition results
October 28, 2014
Talking football – Part 7 – End
October 28, 2014
Softball and football games in Orange Walk
October 24, 2014
Talking football – Part 6
October 24, 2014
I do not use drugs nor do I condone the use or selling of it. But Law
Infrastructure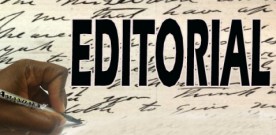 The real yardstick by which future generations of Belizeans will judge our contemporary political leaders is not by what they have thought or by what they have said, but by what they have built. Economists refer to the "infrastructure" of a nation, and this includes roads, bridges, ports, public buildings, water and sewerage systems, and so on. We are not economists at this newspaper, but we thought of opening up a conversation to which more knowledgeable readers may care to contribute.
Belize has had four Maximum Leaders in our lifetime, and these are Rt. Hon. George Price, Rt. Hon. Manuel Esquivel, Rt. Hon. Said Musa, and Hon. Dean Barrow. Mr. Price had the longest run as Maximum Leader, from 1961 to 1984, whereas Mr. Esquivel spent a total of ten years as Prime Minister, likewise Mr. Musa, whereas Mr. Barrow is working on his seventh year in office. Mr. Price was also Maximum Leader from 1989 to 1993, but the evidence suggests that he may have been a figurehead during that term of office.
In the matter of infrastructure, Mr. Price may be credited with having built the Tower Hill sugar factory, the new capital Belmopan, the Belcan and BelChina bridges, the Western and Northern Highways, the Belize City water and sewerage system, the Belize City Deep Water Port, and the Belize City Civic Center.
Mr. Esquivel built the Philip Goldson International Airport, the University College of Belize campus, the Central Bank building, and the original Ramada Hotel. Mr. Musa may be credited with building the Hummingbird and Southern Highways, the Orange Walk Town bypass, the Belize Tourism Village, and the Marine Parade. Mr. Barrow is nearing completion of the Chetumal Street bridge. He has financed major work on Belize City streets and parks.
The area where our data base at this newspaper is badly lacking is that of school buildings nationwide and rural electrification and water projects. As a matter of fact, we invite contributions from readers who may be able to fill in the gaps where Belize's rural infrastructural projects are concerned. You will have noted that our list of projects is more focused on "mega" projects, hence it may be criticized as Belize City-biased.
The subject of infrastructure entered our thinking because of the fact that the Chetumal Street bridge is nearing completion. This is a bridge that should have been built at least fifteen years ago, while a serious upgrade to the road between Belize City and the Philip Goldson International Airport should have been in the works at the same time. Remember now, tourism was exploding fifteen years ago, and clearly access to the international airport, as the hub of much of our tourism-related travel activity, should have been the focus of attention.
During our recent thinking on the subject of infrastructure, we realized that Mr. Price had done three major projects in Belize City in the decade after he completed Belmopan in 1970. These were the water and sewerage project, the Deep Water Port, and the Civic Center. There was a perception, especially in the old capital, that Mr. Price was abandoning Belize City after he decided on Belmopan, but these three projects suggest otherwise.
On the matter of infrastructure, perhaps speaking tangentially, we note that arguments have been brought forward by prominent Belizeans such as Dr. Ted Aranda to the effect that infrastructural investment in Belizean port facilities should have been directed towards Commerce Bight and Big Creek in the south of the country, primarily because there is deeper water nearer to shore in Commerce Bight and Big Creek than in the case of Belize City. Two things to mention where the subject is concerned are, firstly, that Belize City has 10 of the 31 seats in the House of Representatives, and secondly, that the better port landscape lies in the half of Belize territory being claimed by Guatemala. In other words, the discussion is not a straightforward one with respect to the relative merits of the sites: the discussion is probably influenced by political and foreign policy considerations.
The various real estate and housing projects undertaken by Javier Berbey Garcia, a relative or associate of the Omar Torrijos family who came to Belize from Panama in the middle 1970s, include Bella Vista, Buttonwood Bay (formerly Belama Phase One), Belama Phases Two and Three, and Vista del Mar. These infrastructural works may be credited to Price administrations.
We have not included Mahogany Heights in Mr. Musa's list of infrastructural credits, because of all the controversy surrounding the land itself. You may give a Musa administration credit for Los Lagos.
Our intention in this editorial was not to play any political games. Our intention, to repeat, is to begin a conversation. The infrastructural decisions which an administration makes say something about the nature and priorities of that administration. What is left after all the singing and dancing and flag waving, is infrastructure. It is indeed by their fruits that ye shall know them.
Power to the Belizean people
October 24, 2014
Farrakhan in the footsteps of Chavez
October 21, 2014
Belize's real
October 17, 2014
The colossus and the compromised
October 10, 2014
I do not use drugs nor do I condone the use or selling of it. But Law
From the Publisher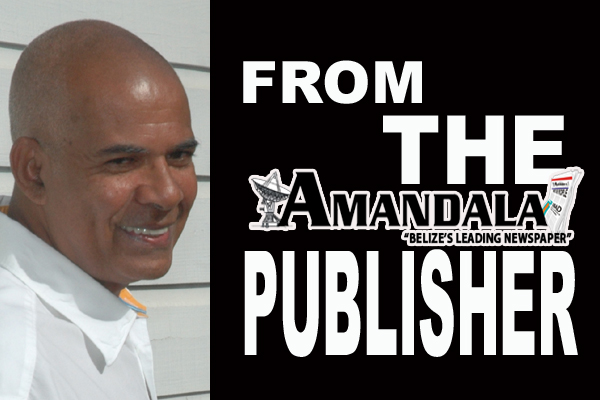 The Mexican Constitution of 1917 is the first such document in the world to set out social rights, serving as a model for the Weimar Constitution of 1919 and the Russian Constitution of 1918. Some of the most important provisions are Articles 3, 27, and 123; these display profound changes in Mexican political philosophy that helped frame the political and social backdrop to Mexico in the twentieth century. Article 3 forbids the setting up of a list of prohibited books and establishes the basis for a free, mandatory, and lay education; Article 27 laid the foundation for land reform; and Article 123 was designed to empower the labor sector.
Articles 3, 5, 24, 27, and 130 were anticlerical and, as originally formulated, seriously restricted religious freedoms; attempts to enforce the articles strictly by President Plutarco Calles in 1926 led to the civil war known as the Cristero War.
- WIKIPEDIA on The Mexican Constitution
When United States President John F. Kennedy was murdered by right wing elements in November of 1961 in Dallas, Texas, Vice-President Lyndon B. Johnson assumed the presidency. Business proceeded to go on as usual. But when Mexican President Francisco I. Madero and Vice-President José María Pino Suárez were murdered by Mexican Army elements in February of 1913 in Mexico City, it was a Mexican Army general, Victoriano Huerta, who took over the presidency after a plot which involved the United States Ambassador to Mexico, Henry Lane Wilson. Business did not go on as usual: a bloody civil war broke out in Mexico.
During his presidency, Victoriano Huerta, who is reviled in Mexican history, was supported by the Roman Catholic Church in Mexico. It is primarily for that reason that the Mexican Constitution drawn up in 1917 by the nationalist forces which had forced Huerta into exile in July of 1914, was distinctly anticlerical.
In the Guatemalan civil war which lasted from 1960 to 1996, the Roman Catholic Church in Guatemala supported the Guatemalan military and oligarchy, which has remained in power since the overthrow of President Jacobo Arbenz by Carlos Castillo Armas in 1954 in a CIA-sponsored coup.
Recently we have been reminding you that the United States government continues to consider Guatemala of significantly more importance than Belize in its foreign policy considerations. The same thing applies to the Vatican. In its headquarters in Rome, Italy, the leadership of the Roman Catholic Church has Guatemala higher on its list of priorities than it has Belize. There have to be implications here for the Catholic faithful in Belize.
In his regional address broadcast from Kingston, Jamaica on Sunday, October 18, Nation of Islam Minister Louis Farrakhan cited documented historical reasons why the regional movement for slavery reparations should include the Roman Catholic Church on the list of those who have to pay.
"'When you talk about reparations, you can't leave the Pope out … There was something in the Catholic Church called the Papal Bulls authorizing slavery, it is a type of letter or patent by the Pope,' Farrakhan told the ceremony that was also attended by government ministers.
"He said Pope Nicholas V issued a Papal Bull granting Portugal and Spain, 'full and free permission to invade, search out and capture … all unbelievers and enemies of Christ wherever they may be and reduce their persons into perpetual slavery.'
"Farrakhan said even in today's world this Papal Bull is being regarded as an endorsement of slavery … so when we are asking for reparation, we can't leave the Church out.
"'You can't leave the Pope out, nor can you leave European countries out,' he added."
(The four quoted paragraphs above are taken from a Monday, October 20, 2014 CMC article published on page 26 of Amandala, Sunday, October 26, 2014.)
Unconditional endorsements are periodically given by Belize's elected politicians to a Belizean education system which is dominated by the Roman Catholic Church and the Anglican Church. Belize's elected politicians are conscious of the power these two religious institutions have over the Belizean voters who decide their fate in elections. Belizean politicians have no choice but to support the so-called church-state education system, even though it is wasteful and inefficient, because religion is more powerful than nationalism in Belize.
This is not the case in Mexico. The republic remains heavily, predominantly Roman Catholic, but when it comes to the core issues of their nation-state, the Mexican people have been setting religion aside ever since the Church supported Victoriano Huerta.
In Belize, the Roman Catholic Church and the Anglican Church agree on all important issues, but in the recent public discourses on homosexuality and gender policy, it appears that the Romans have been more hard line, so to speak, than the Anglicans.
We think you will agree, however, that the most important existential issue for Belizeans is not homosexuality or our gender policy: it is the Guatemalan claim to our territory. We would like for the Roman Catholic hierarchy in Belize to speak out categorically and unequivocally on this matter.
Power to the people. Power in the struggle.
From the Publisher
October 24, 2014
From the Publisher
October 21, 2014
Sugar industry partners still in disagreement
October 17, 2014
From the Publisher
October 17, 2014
I do not use drugs nor do I condone the use or selling of it. But Law
Exploding boiler kills Quality Poultry employee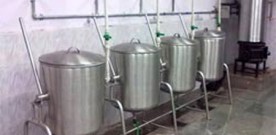 SPANISH LOOKOUT–A resident of Santa Familia, Cayo District, succumbed to varying degrees of burns he received following an incident in which he was accidentally drenched with boiling water while working at a local chicken processing plant belonging to Quality Poultry Products in the Spanish Lookout community in the Cayo District.
The incident reportedly happened a little over a week ago, on October 16; however, the victim, Sabino Pimentel had been fighting for his life since then until he died on Thursday, October 23, while undergoing specialist treatment in Guatemala.
Raymond Barkman, general manager of Quality Poultry Products, issued a statement this evening explaining the sequence of events concerning the unfortunate incident.
The statement said that on October 16, 2014, the management was alerted to an accident that had occurred in the boiler section of the compound, and upon arriving there they saw Pimentel under a water fountain cooling himself down from an obvious steam burn, after which an instant decision was made to get him out of the country to a burn victim facility in Guatemala City.
"The ambulance and our emergency committee were immediately called to make decisions as it related to Mr. Sabino. The doctors at Guatemala were alerted and asked for an official examination from a doctor in-country so that they would have a better idea of the status of the patient, so Mr. Sabino was taken to the La Loma Luz Hospital and examined, after which he was transported by ambulance to Flores, Guatemala, where the company had a plane waiting to take him to Guatemala City.
"The accident occurred at approximately 11:00 a.m. and by 4:00 p.m., Mr. Sabino was in Guatemala City undergoing treatment. The doctors told his family that if he would make it through the first three days, he would be OK. However, sadly, this is not the case, and he succumbed to his injuries exactly one week later in Guatemala", the statement said.
The statement went on to explain what led to Pimentel's untimely death, saying, "After the accident, we went and evaluated what had occurred. A detailed report was forwarded…stating the circumstance of this incident and sadly, it was a case of being in the wrong place at the wrong time. What happened is that we have two levels in our rendering plant – the top level obviously being the place where we fill up our boilers, and the bottom level where after being cooked, [the product] gets taken out.
"What occurred is that the top cover of the boiler blew open; safety checks are done regularly and there was no indication that anything needed to be changed. The accident took place on the second floor and at the time, there was not supposed to have been anyone on that level, as the boiler had already been filled. It is really sad, because we don't know why Sabino was up there, and worse, at the particular time when it exploded."
Barkman, who said that he was making the report with a heavy heart and profound sadness, since Pimentel will be deeply and truly missed, described the victim as a leader who completely managed the company's boiler system, and a dedicated worker who loved his job so much that even during the time he was being transported to the medical facility he was concerned not with his health, but with the crude oil level of the boilers, as they were at the reserve levels.
In an attempt to get some information on the police's investigation into the matter, Amandala contacted Officer in Charge of San Ignacio Police, ASP Dindsdale Thompson, who informed us that the investigation into the matter has just commenced, and therefore, authorities have limited data on what actually transpired.
He said, "We are just bringing the management [of the company] from Spanish Lookout [to the police station] and right now we are recording statements, but the investigation has just started today, and all I can say at this time is that the matter is being investigated."
Crips vs Crips!
October 28, 2014
Minor traffic violation leads to alleged police beating and four charges
October 28, 2014
Hanna hits Honduras, will drench Belize
October 28, 2014
Guat passport offensive
October 24, 2014
I do not use drugs nor do I condone the use or selling of it. But Law